Best Non Toxic Baby Nail Polish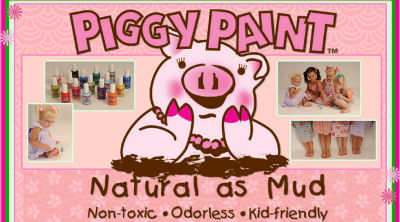 I have seen lots of baby girls with manicures that I would envy but are their moms using non toxic baby nail polish? If they are not, I hope they will take a look at the tiny print on the bottle listing the contents of a bottle of regular polish, I'm pretty sure that they will not see much there in the way of organic ingredients.
The question I would have for them is, "Do you really want to soak your baby's fingers in nasty chemicals"? Their argument might be that their mother painted their nails for years with no problems. And these well meaning moms might even take it a bit further by saying that their moms painted their nails pink and there has yet to be a trip to emergency room to be treated for chemical poisoning.
But the truth is that we will not know what the ultimate price we will pay for exposure to toxic fumes and chemical absorption for a long time. And is this a risk that you are willing to take with your child? Of course not and why should you when you can switch to PIGGY PAINT?
PIGGY PAINT NON TOXIC BABY NAIL POLISH REVIEW

When somebody told me that there was indeed a green non toxic baby nail polish that had good reviews on a few mommy blogs I was skeptical, but hopeful because I was weary of my girls being the only kids with unpainted nails. Even my oldest daughter is not old enough to understand why I refuse to paint her little fingernails with polish (especially when we walk right by a big display rack at the discount store where her friends tell her they get theirs) much less my little ones.
I decided that I wanted to give PIGGY PAINT'S non toxic baby nail polish a shot. Reading other mom's reviews were not going to cut it. I had to try the polish and the remover myself.
When I received the package with a bottle of polish in a lovely shade of pink called FOREVER FANCY and a bottle of remover the first thing I did was open the remover up and take a big sniff. And what did I smell; actually I smelled nothing.
ODOR FREE REMOVER!
The facts are that pond water has more chemical odor than this stuff. There was none of the acetone stink that runs my husband out of the beauty shop when somebody is getting a manicure. The nail polish did have a tiny odor, but it was not the smell you get from a bottle of other brands. And I really had to get pink paint on my nose to pick it up. This is a HUGE improvement over nail paint from my past where you had to open the kitchen window to breathe while you are using it.
LOOKS GREAT!
Then I painted my nails to check the consistency and was very pleased with the smooth application and resulting finish. I popped out the hair dryer to set it and went about my business to see how long the non toxic baby nail polish stayed intact without chipping. Well, we are now at two days and counting so there are no problems in that area. Another mom said hers chipped quickly. All I can say is that she must not have followed the directions as closely as I did. Piggy Paint may be the best thing that has happened to baby toes since the "This Little Piggy Went to Market" game was created!
THE BOTTOM LINE
The bottom line is that this chemical phobic mom is super pleased that:
a. she found Piggy Paint

b. that her girls will now have pretty pink fingernails like the rest of the kids

c. that she can recommend this baby safe nail polish to other moms

d.that PIGGY PAINT is sponsoring a coupon code and a gift certificate giveaway so that a mom can try their non toxic baby nail polish!

Return to Unique Baby Gear Ideas to find more information on Organic Baby Bath Products and Non Toxic Baby Nail Polish.