How to Paint Leopard Print
by Jen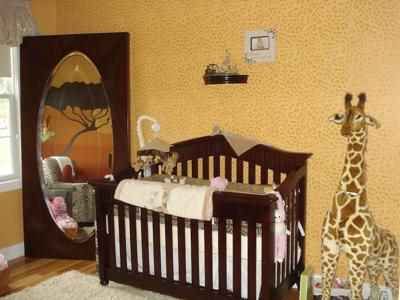 Leopard Print Wall Painting Technique. Leopard Spots! Wild Animal Print Wall Decor in our African Safari Theme Baby Nursery
Some of the moms here were asking how to paint leopard print on the walls and why I didn't just use leopard wallpaper rather than having to paint individual leopard spots on the walls.

For starters, I didn't paint the leopard print free hand. I painted the wall with the help of a repeating wall stencil. If I had had to paint each spot, I would have probably just had a leopard print border (at the most!)

ADVANTAGES OF PAINTING OVER WALLPAPER

When using a stencil rather than hanging wallpaper, you don't have to learn how to paint leopard print nor do you have to have a perfectly smooth surface that would be required for wallpaper. In fact, this painting technique is a great way to camouflage any flaws. PLUS, you are free to tweak the paint colors.

PINK LEOPARD

My friend is having a baby girl and she borrowed my
leopard print wall stencil to paint pink leopard spots. I can't wait to see her pink leopard nursery!

HOW TO PAINT LEOPARD PRINT

First of all I bought a repeating pattern wall stencil and then chose my paint colors. I bought a base color and then I bought a color that was a shade darker that had a shinier finish than the base color so that it would stand out.

SUPPLIES

In addition to the stencil, I bought a can of spray stencil adhesive and a 6" sponge roller.

You can see more leopard nursery pictures here and I would appreciate it if you would please vote for my contest entry!