Sheep and Baby Lamb Theme Nursery Ideas
Baby Lamb Nursery Décor, Crafts Ideas and Painting Projects

We have baby lamb theme nursery ideas with crafts projects that will help DIY ers make their own nursery décor as well as wall painting ideas featuring the latest color combinations and murals filled with precious, playful baby lamb.  There are also baby bedding sets and decor that should tickle your fancy. 
Our visitors have shared many sheep baby nursery decorating ideas based on popular nursery rhymes and children's bedtime stories like Mary Had a Little Lamb, Baa Baa Black Sheep and even the famous puppet Lamb Chop.
New parents also have used baby lamb crib sets in a spiritual nursery design based on a religious, Christian theme where Lion and Lamb themed items were included in the wall and room decor.
A little lamb themed room works well with many color schemes including pink for a baby girl, blue for a boy as well as a green gender neutral color.
A crib quilt with an appliqued sheep is an easy craft project and can be used as bedding or as a wall hanging.
The cornerstone of any lamb nursery is the lamb baby bedding. Lambs are a popular motif for baby quilts, blankets and comforters possibly because of the practice that insomniacs have of counting sheep until they finally drift off to sleep.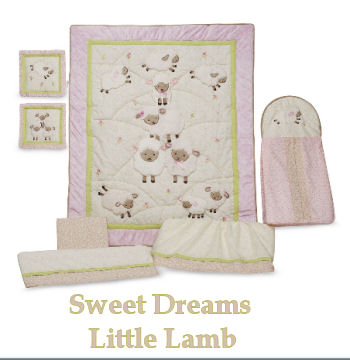 Go Here to See More
In the event that you can't what you want in lamb theme nursery bedding available in the stores, you can easily find fabrics that reflect your chosen color scheme and have a custom lamb quilt made.
You can pick up a free lamb or sheep crib quilt pattern with applique pictures of baby lambs to put on the patchwork squares.
Or if your quilting skills are not advanced enough to be comfortable with applique, you might want to start with lamb quilt panels or tied quilts using fabric with a lamb print that are easy and geared toward the beginner.
Rugs with pictures woven into the design or that are in the shape of sheep are an excellent way to create a cohesive lamb theme nursery. If you want a perfect match, you might check to see if your bedding collection offers an area rug. Lion and lamb rug kits are a nice craft project if you would like to make your own nursery rug if you are working on Christian nursery decor.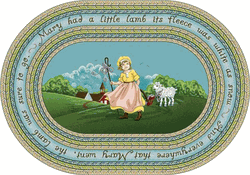 MARY HAD A LITTLE LAMB RUG
You can visit a farm and take your own pictures of lambs to frame and use to decorate the walls. There are also inexpensive prints available that feature traditional, pink, blue or gender neutral colors. Often the sheep are accompanied by rattles, pacifiers and diaper pins. Many parents love the Lion and Lamb painting by William Hallmark.
Here are other decorations that can be used to decorate a lamb theme nursery.
Lamb wall mural – Use painting or stickers to create a peaceful, pastoral tableau on your nursery walls.
Lamb theme lamp – Buy a lamp with a sheep decorating the base or stencil some lambs on the lamp shade of a lamp that you already have on hand
Lamb mobile – A musical lamb crib mobile that reflects the color and style of the bedding set will entertain baby while adding to the room's decorations.
Lamb toys – Colorful plush toys in a basket, lamb riding toys as well as singing toy lambs will keep baby happy and occupied as well as make a creative contribution to your lamb theme nursery.
Return to
Unique Baby Gear Ideas
find more nursery decorating projects and excellent suggestions for lamb themed decorations for your baby's room.