Ava's Nursery is ALL GIRL
by Donna
( IL Illinois USA )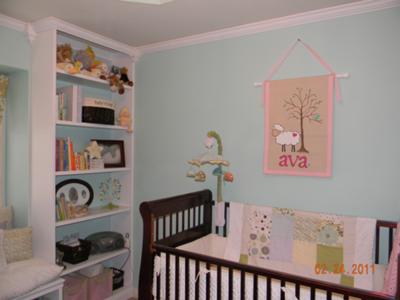 I made the little lamb wall hanging over the crib with my baby girl's name on it.
The completed design of Ava's nursery is all baby girl although it started out to be gender neutral since we did not find out the gender of our baby.



There are many other decorative accessories in the room that were left over from my previous nurseries, some were hand-made by myself, some were received as gifts and some of the nursery decorations are mine from when I was little.




Go Here to See More
I made the jewelry trees, the flower art, the pink letter "A" that you see on the wall shelf and the wall hanging that adds so much to my
baby lamb nursery theme
. The wall hanging has been personalized with my baby girl's name and is exactly what I wanted for the space over her crib. The sheep wall hanging is an original piece that was created by a design student.
DETAILS
The wall paint color is Robin's Nest from Benjamin Moore.
All of Ava's pillows and baby bedding are beautifully handmade by my talented mother, including the patchwork crib quilt.
The fabrics came from local fabric stores and were selected knowing that if my baby was a girl that pinks would go nicely with them and if the baby was a boy, they would also look fabulous with chocolate brown and pea green.
My wonderful husband and his father crafted the built-ins of the nursery. They used MDF to trim out the fronts of the built-ins and installed crown molding in her room.
The nursery chandelier is a vintage piece that was recovered from the back room of an antique shop. I found it and had my brother replace the old electrical wiring and add new crystals. I used it as a light fixture for my two boys' nursery when they were babies and though Ava's nursery is all girl, it looks like it was made for it.
SPECIAL TOUCHES
The atmosphere that I wanted for our baby girl's nursery was serenity and the overall look that I wanted was "pure baby". I believe that I achieved those goals because as you can see from my nursery pictures, Ava's nursery is all girl and I hope that visitors that stop by
Unique Baby Gear Ideas
have enjoyed the tour!