Juliet's Pink Gingham Nursery
by Jenna J.
(Myrtle Beach, SC, United States)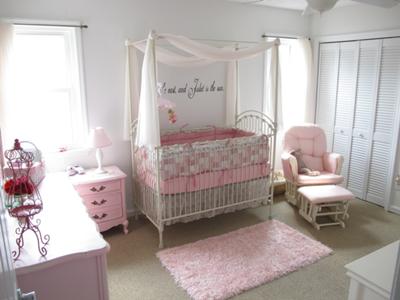 Juliet's Romantic Pink Gingham Palace
Juliet's pink gingham nursery design came about as the result of our desire to give our baby girl a room that is just as romantic and elegant as her name "Juliet Love."


After very little shopping we knew that we wanted the Venetian crib from Bratt Decor and we are so very glad that we got it; we just adore it.





Go here
to see our favorite gingham nursery bedding and accessories.
After we found the perfect crib, we chose to stay with an antique look with the rest of the nursery furniture and found a pretty crib set with a quilt that we just loved from the Hannah 4 Piece Crib Bedding By Anna Claire for Baby collection.
The window treatments were handmade with fabric from a local store. The mobile came from Burlington Coat Factory. The rug is from The Kangaroo Pouch - Myrtle Beach, SC and the glider is from Walmart.com.
The nursery window treatments were handmade with fabric that we bough from a local store.
The baby's mobile came from Burlington Coat Factory.
The nursery rug came from The Kangaroo Pouch in Myrtle Beach, South Caroline and we bought the glider online from Walmart.
After spending many Saturdays searching antique shops for antique nursery furniture, we started a collection in our garage.
Juliet's daddy worked very hard refinishing and painting all of the furniture that we collected and we finally got it all placed to our satisfaction.
On the wall over Juliet's crib is a quote that says
"It is the east, and Juliet is the sun"
from Romeo and Juliet by William Shakespeare.
There is also a gold Romeo and Juliet wall sculpture on the wall that we had custom made to complement the gingham and decor.
One of our favorite features of the room is her pink gingham nursery glider that is so comfortable. It's so lovely to sit by the window and just relax.
Go
here
for pink gingham product resources.
Our baby girl will be here in just two weeks and after all of the hard work getting her room decorated, we couldn't wait to share it with
Unique Baby Gear Ideas
or until our daughter arrives!