Best Gingham Baby Bedding and Nursery Decorating Ideas in Blue, Pink and Green for Baby Boys, Girls or Both
On this page you will see examples of gingham baby bedding sets that you can make yourself that will put you on the path towards a classic nursery design that is fresh as a daisy and always in style. One of our visitors whose mom is a master at sewing said that their sunny yellow gingham crib set "brings a ray of sunshine into the room no matter what the weather is doing outside".

Isn't that a wonderful atmosphere to have in a baby's first room? It's so much fun to look for new and exciting ways to decorate and accessorize with pretty plaids and gingham checks. Plus, there are so many cute colors that can be used with a green gingham baby crib set that make baby's room look so clean and neat.


Line a storage basket with gingham liner, replace those dusty lamp and night light shades with clean gingham chandelier shades with pom pom trims and wouldn't a yellow gingham bed ruffle be precious with your crib bedding? There's just so much that we can do in a child's bedroom with this classic fabric print. Bed skirts and other fabric crafts are just one of the ways to decorate with these charming, checked fabrics.





Nursery Pictures and Decorating Ideas.

Baby Girl Pink Gingham Nursery
Red Gingham Nursery Wall Decorations
Rustic Red and White Nursery Decorated in Gingham Checks
Cozy Country Red Gingham Nursery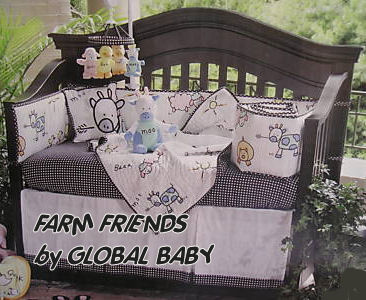 Go here to find more
gingham crib and cradle bedding sets to bring a bit of sunshine into your baby's nursery.




SHARE IDEAS - PICTURES of GINGHAM CHECK DECOR
Do you have a great set of baby bedding or a picture of a nursery that you decorated with gingham fabric? Share it!
GINGHAM CHECK NURSERY PICTURES, IDEAS and SUGGESTIONS from our FRIENDS
Click below to see contributions from other visitors to this page...


Juliet's Pink Gingham Nursery

Juliet's pink gingham nursery design came about as the result of our desire to give our baby girl a room that is just as romantic and elegant as her name …

BEAUTIFUL CUSTOM GREEN GINGHAM BABY CRIB SET

Our beautiful custom green gingham baby crib set is the centerpiece of the nursery. It was made using a combination of green, yellow and white gingham …
RED GINGHAM NURSERY Not rated yet
I realized very quickly when I started gathering ideas for my baby's red gingham nursery decor that if I was not very careful, the checks were going to …
If you feel that the decor is still lacking that little something extra, break out the paint, stencils and matching wallpapers and paint checks from the room's top to the bottom.
Here are more creative nursery decorating ideas to accessorize your gingham baby bedding sets with matching checkerboard patterns:
Line baby's dresser drawers with leftover wallpaper
Paint inserts on the front of baby's armoire or other pieces of nursery furniture with a checked design
Gingham curtains for the nursery windows
Matching shower curtains
Cushions for the nursery rocker or sofa slipcovers
Gingham checked ribbon tied in a big, fluffy bow decorating a homemade country door wreath
Gingham baby bedding and fabrics brings to mind a country cottage surrounded by a picket fence with red and white curtains edged in white eyelet fluttering at open windows. If you are designing country style baby nursery themes, gingham may very well be the best fabric for you. The red and white check nursery color scheme would look lovely in a baby girl's bedroom with a farming theme. I'm not sure how well apple green gingham baby bedding would blend with classic John Deere Green and yellow baby accessories, but there are red tractors, barns and wagons that it would work with.
It's easy to find gingham baby bedding in many colors as well as classic blue and white for baby boy's rooms and pink and white for a baby girl's nursery. Recently, I have noticed black gingham in combination with magenta pink which has a bold, contemporary feel. It might be possible to make use of this edgy, new color combo in a French or a French country nursery. Everyone could use a touch of gingham somewhere in their homes, so have fun and send me your pictures of that beautifully decorated nursery when you are done!