Ideas for Throwing a Backyard Baby Shower
by Jan
There are several warm summer months ahead and we have lots of decorating and menu ideas for throwing a backyard baby shower. This is the type of shower that dads will not only attend without too much fuss but will actually enjoy!


Plus, I have some suggestions that will keep rain, heat or cold weather from putting your party plans on hold.



With some mood lighting and a scrumptious menu, the back yard becomes the perfect venue.
Go here to see more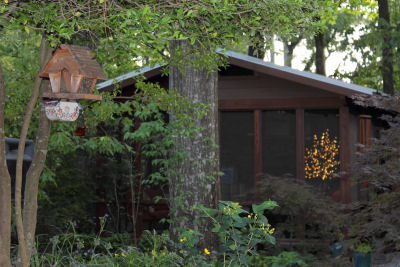 Couples Baby Shower Invitations
The success of many a couples baby shower has hinged on having something for the men to do until the time comes for the
fun baby shower games for dads
that you have in store for them.
Men love to show off their cooking skills and hamburgers (or steaks, ribs or whatever) would make a nice contribution to the baby shower menu.
Fill tin wash tubs with ice and drinks convenient to the cooking and seating of the
baby shower venue
. The men will love the rustic look and not having to walk very far for their water or beer.
Locate the BBQ grill on a covered patio or screened-in porch just in case rain or a cloud of pesky mosquitoes drops by unexpectedly.
Encourage your guests to sip a glass of wine while strolling along garden paths.
Potted plants, flowers, bird feeders and garden statues (even if they had to be borrowed from friends) will add points of interest along the way.
With enough notice; planting colorful pots of greenery is a possibility.
There are always a few guests invited to the backyard baby shower that don't enjoy the outdoors and a thoughtful hostess will make accommodations for their comfort.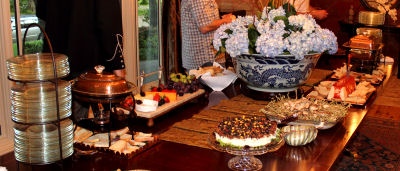 Those who prefer to stay indoors will appreciate a table of refreshments near the patio so that they can be a part of the festivities.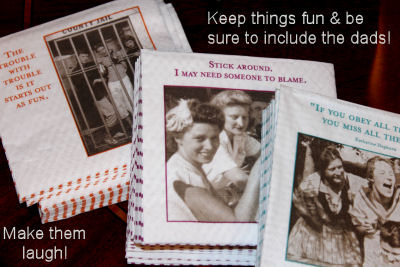 Baby Shower Napkins
Guys don't enjoy cute-sy cups and napkins in traditional
baby shower themes
as much as the mom-to-be and her girlfriends. Concessions must be made and creativity and imagination employed to come up with something different. These vintage napkins featuring the guys in jail with sage words of advice were a custom order but worth it; they made the men laugh!
Plan B
That brings me to perhaps the most important of all the
ideas for throwing a backyard baby shower
;
a plan B
!
Anything from excessive heat to a rumble of thunder can throw a monkey wrench into your baby shower plan. Always, always work out a strategy that will enable you to make last minute changes if necessary.
To make this easier (even if it's unnecessary) serve food and beverages inside the house as well as outside so that your guests won't be hungry or thirsty in the event of a sudden emergency dash indoors.