Hollings Pink and Brown Nursery
by Sunday
(Asheville NC)
Here are some of the best pictures of Hollings pink and brown nursery. I am a professional photographer and I thought that my baby girl's nursery design should be well documented.



I have taken many, many photos of the baby's room and here are a few of my favorites.



My husband is a building contractor and took care of all the finishing touches such as the wooden molding. His chosen profession as a building contractor and mine as a photographer served us well in designing and photographing Holling's first room.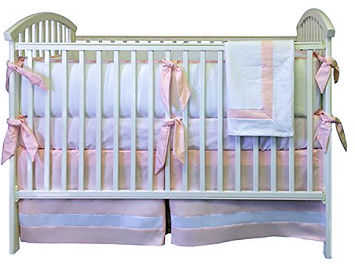 Go here to see more
Hollings' pink and white crib bedding set features both tailored and feminine touches and a chocolate brown border.
The crib that you see in the nursery pictures was given to me by my older sister. My mother bought it for her when she had her first baby boy. Her sons are now 10 and 8. It is a gorgeous Italian made crib that now my two daughters have used as well.
The baby bedding set is all white with chocolate brown trim and came from Pottery Barn Kids along with the crib mobile, the nursery wall letters, the chocolate brown polka dots, picture frames and the nursery chandelier.
My husband built the wooden box that sits beside the rocker in college and my best friend refinished it painting it in the colors of Hollings pink and brown nursery.
I love it, and it provides extra storage space which is needed as the room is really small.
The pink paint color on the walls is Ralph Lauren's Tea Rose that seemed appropriate since my first daughter's name is BellaRose. I can't remember the name of the chocolate brown wall paint but I think it is called Stable Brown, because I loved the name because I grew up riding horses! The dark brown color is so rich you could almost eat it!
I studied many
pictures of pink and brown nurseries
and came to the conclusion that it would be best to have the main color of the room to be on the walls and everything else to be white with just a few accent colors.
Obviously, since photography is my art that is what decorates Hollings pink and brown nursery walls.
My baby girl's nursery is very calm and serene and a lot of love went into its design. I hope that you will love it as much as we do!
From the webmaster:
Sunday, thanks so much for sharing pictures of Hollings' lovely nursery with us. It's always a pleasure to see a room like hers that is composed of so many interesting decorative elements with a story behind them. There's so much of the family's personality in your design that makes it unique and interesting. And I see you put just as much thought into pictures that you take in your photography business. To see the world through your lens has been a real treat for me and I hope that all of our visitors will not only vote for Hollings pink and brown nursery design in our baby nursery pictures contest but that they will visit my photo blog.
If any of
Unique Baby Gear Ideas
' visitors are in the Asheville NC area, do yourself a favor and make an appointment for Sunday Grant Photography to take some maternity pictures, baby pictures or family portraits!