Giuliana's Vintage Princess Nursery Room
by Yanice
(Guayama, Puerto Rico)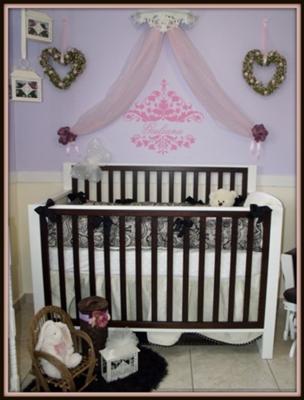 Our Baby Girl's Vintage Princess Nursery Room Decorated in Shades of Purple
Giuliana's vintage princess nursery room is a royal fantasy for a baby girl that was decorated for our second daughter. Since the color purple brings royalty to mind it became the base color of the color scheme that we used for the walls, window treatments and most of the decor.


The Cotton Tale Design French Cuffs baby bedding set that we bought for our firstborn was in very good condition other than the fitted crib sheets so it was used again.


The colors of crib set are black and antique white or ivory and blended very well with the purple nursery color scheme.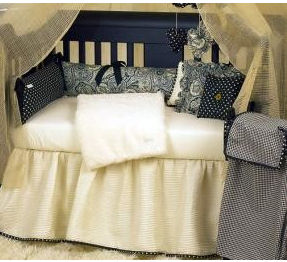 Go Here to See More
I love the French-inspired fabric pattern and also that the colors are not the typical colors used for baby girls.
The vintage style of the French cottage crib crown permitted the framing of her bed using tulle fabric for the drapes, giving the room the princess feeling that we were looking for.
We also included the Eden Baby Furniture's Moderno Collection that we bought from a local baby store for our first daughter in the nursery's design adding a black velvet ottoman decorated with a pillow and purple heart that adds to the royal feeling of our princess nursery.
The decal with the our little princess' name is displayed in the center of the wall. We think that it is the perfect choice for a baby girl named Guiliana with no middle name, don't you?
In addition to the Guiliana's name decal, we hung hearts using wide, pink satin ribbon and birdcages from the ceiling. We decorated them with tulle bows made from the same fabric that we used for the draperies for the crib crown. In my opinion, these small touches completed the fantasy atmosphere of the space.
We also hung large, white butterflies over the diaper changing area using satin ribbon that add much to the luxurious feeling of our
baby girl's nursery
.
Baby Craft Ideas
I used paper flowers that I made myself to embellish a picture frame and two hanging mirrors. Continuing with the flower theme, I decorated the lamp shade with purple roses.
I filled baskets with pink and ivory roses with pink and purple satin ribbons and other decorative items arranged in Giuliana's vintage princess nursery room.
I believe that my tips are just perfect for that busy parents that visit
Unique Baby Gear Ideas
with little time but the desire to make decorations for their baby's room, things that they would love that will be one-of-a-kind and special for their little princess.