Frog Fabric in Cotton, Fleece and Baby Flannel for Quilting, Curtains and Nursery Sewing Projects
There's nothing as fine as some yards or fat quarters of flannel baby frog fabric for sewing a personalized baby quilt or for decorating the bedroom of a little princess. Green is such a fresh, spring like color that blends so nicely with shades of pink, blue, lavender or royal purple which has put frogs in the decorative spotlight as of late.



Visitors Shopping for Frog Print Fabric Also Enjoyed these Pages:

Baby Quilts

Frog Baby Bedding

Frog Nursery Theme



One might consider frogs to be for little boys just like snips and snails and puppy dog tails except for the story about the princess who must kiss the frog to release her charming prince from the spell that an evil fairy had cast upon him. Such is the basis for many a baby girl's frog theme nursery.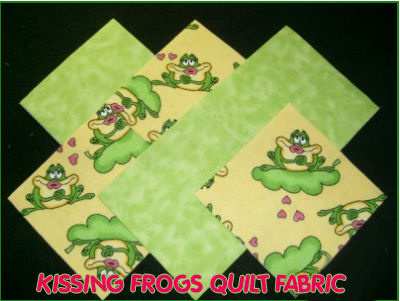 Go here to see more
froggy prints for your nursery sewing projects.

Baby Sewing Projects for Frog Print Fabric



Personalized Diaper Bags

BABY FROG FABRIC
As I mentioned earlier princess and the frog baby bedding is a great way to kick off a fairytale nursery for a baby girl. Frog fabric for this theme would have pictures of a frog prince wearing his royal crown with a pretty princess ready to give him the kiss that will set him free.
Baby frog print fabric for a baby boy's nursery would be less feminine in design using amphibians of the pond variety or dancing frog and toad fabrics over material with designs based on storybook characters. However, the frog prince fabric might be used with success for a baby boy's prince nursery theme if green is the desired color scheme.

FROGS QUILT

You can actually make a very cute frog baby quilt without using frog fabric. By using a patchwork block pattern with frog appliques (think Sunbonnet Sue or Sam only using frogs and toads) you are free to use any print fabric you choose. When you are done, show off your quilting with frog print quilt binding to give your frog baby quilts a polished look.



LIGHTWEIGHT FROG BABY BLANKETS
Cotton flannel frog print fabric is soft and sweet and can be ready to wrap for your next shower with the addition of a quick and easy hem or you could use fleece and get by with edging it with buttonhole or blanket stitch.
And the sky is the limit as far as color scheme is concerned. The only frog that I know of that must be green in color under any and all circumstances would be our favorite Muppet, Kermit the Frog.

THE BOTTOM LINE
The facts are that there is a frog fabric for every style of baby frog decor. Whether you want to design your kids' bedroom around a fantasy frog prince who needs a kiss from his fairy princess or a red eyed tree frog enjoying a sunny day in a tropical rainforest, I'm sure that you will find just the right amphibian with lots of personality and decorative appeal for your kids' bedroom curtains and bedding sets.
Return to find more Unique Baby Gear Ideas and to find more creative uses for baby frog print fabrics in your home.