Enchanting Fairy Murals for a Baby Girl's Nursery Wall or Ceiling
Decorate your baby's nursery with fairy murals and when baby has grown and wants the latest pop star or super hero on the wall rather than pastel fairy or pixie princess wall murals; peel the removable fairy wall appliques off and use them to decorate the walls of your sun room.


The world of fairies has been a favorite decorating theme for children as long as I can remember. So long as elves and other enchanting forest creatures with mystical powers and pots of gold exist in our imaginations, I can hardly imagine that the trend will go out of style.

Ideas for Kids Fairy Room Decorations

Every passing season brings another collection of fashionable room decorations for children that help to make it so simple to turn their bedrooms into a delightful fairy garden.
There are several different styles and designs as well as various ways to create the design. Some methods are very cheap and easy and others take hours upon hours for application with the price becoming more expensive with each tick of the clock.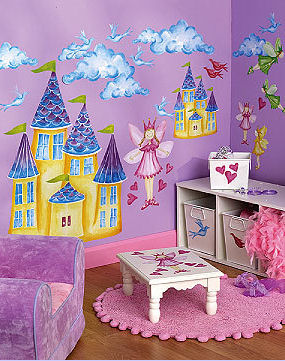 wall art and decorations for a fairy themed baby nursery room wall.

Here are more options for decorating the walls of your kid's room walls with fairies.


Fairy Wall Murals Made With Decals
If you are a mother who likes to give the children's bedroom a makeover several times a year, fairy stickers might be your best course of action. If you're a fan of Peter Pan's Tinkerbell, there is life size fairy wallpaper cut outs that come with enough small appliqués to cover an entire bedroom wall for your little princess. If you prefer a more classic or traditional style of fairy wall stickers, you will not be disappointed with wallpaper murals featuring fairies in flower gardens that eliminate the needs to peel and stick. If you can hang wallpaper, you will have baby's nursery wall decorated in this fantasy theme in a flash.
Fairy Stencil Designs
One of the most stunning fairy wall murals I have seen in a girl's room was painted using fairy themed stencils. The wall was painted a pastel pink color with solid black fairy silhouettes stenciled randomly around the room. This is one of the most inexpensive fairy murals that I have seen and the results were stunning.
Fairy Mural Paintings
If you have artistic abilities and lots of time before the bedroom or nursery will be occupied, nothing can compete with an original wall painting. Pick a few pictures out of your favorite fairytales and go to work using them as a guide. Be advised that this is more than an afternoon or weekend craft project and not for beginners as there are no written instructions, but when you are finished you will have something to be proud of. If you can, by all means do it yourself and enjoy your wall decor for years to come.
Return to Unique Baby Gear Ideas for more unique and attractive ways to decorate your world with fairy wallpaper and murals.