Exederm A Baby Eczema Treatment That Works
by Jan
I became acquainted with Exederm, a baby eczema treatment, long before this review. Eczema, dermatitis, sensitive skin, whatever you want to call it, has tormented my girls since they were born. The oldest had the worst time of it because we didn't have a clue as to how to make her more comfortable, what was causing the painful rashes or what to do about them and her pediatrician was not very helpful.
I stormed the doors to his office one morning after spending a particularly horrible night with a screaming baby covered in an angry rash demanding that he tell me what to do or to give me a prescription for some medicine to put on her. He casually said that rarely was a prescription necessary since most moms got results from using any number of over the counter ointments. I asked him to recommend one and he said there were lots of them including Aquaphor, Desitin, A&D, Aveeno, Johnson's and Exederm a baby eczema treatment I'd never heard of.
I called some moms that I knew whose babies had eczema and they recommended Aquaphor, Aveeno and Exederm. I rushed out and bought all three brands and started using the Aquaphor right away but I was shocked to see that the rash got worse rather than better. Next I tried Aveeno with the same dismal results. After making an appointment with a dermatologist, I figured I would try the Exederm. At this point, what was there to lose especially since the doctor couldn't squeeze us in for several days?
Baby got her morning bath and on with the Exederm cream. The difference was easy to see. The rash didn't seem to get redder and angrier as with the other two creams. Was I onto something here? At this point, do no harm, was an improvement. And speaking of improvements, over the next few days the rash didn't completely go away but it did improve.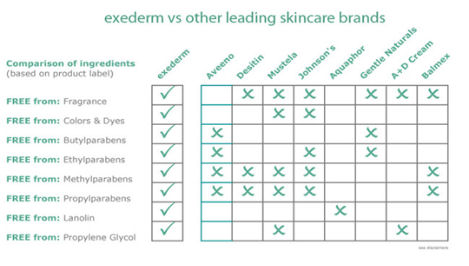 During this time I did some research on non-prescription eczema treatments and found the following graph. The little checkmarks in the boxes told the tale of why Exederm was working and the others did not. My daughter was most likely allergic to colors and dyes or one of the other chemicals that the other creams contained and Exederm did not! That was my first introduction to what was to become my baby girl's extensive list of allergies.
The visit with the dermatologist confirmed my suspicions, gave me a list of common triggers including foods to avoid if breastfeeding and told me to keep using the cream since I was getting results. Dairy was eliminated, nuts of all kinds were banned right away and things started to get better. Identifying her triggers was important in reducing the severity of the rashes but even then there was an underlying case of eczema.
After a long relationship with the cream, I was very interested in trying some of their other products and the company was nice enough to send me their complete line of children's products, to try on my girl's sensitive skin. They sent not only a tube of the cream that we had come to know and love but we also received some Baby Eczema Cleansing Wash, Baby Eczema Intensive Moisturizer Cream, Baby Eczema Hydrating Lotion, Baby Eczema Non-irritating Shampoo and their Flare Control Cream.
As usual, when the package arrived, one or more of my family members had several spots that were broken out and could use some pampering. The chlorine exposure while swimming had taken its toll on everyone's skin and while our normal routine was beating it back; it refused to be conquered completely
We've only used it for a little less than a week, but I have to say that so far I can tell that the combination use of the products along with my favorite non-prescription cream seems to help!
I eased into the use of the bath wash and then the shampoo and like how well they work without drying the children's skin and scalp. After their baths, I pat them dry and apply their cream to any spots that need immediate attention and then I put the Exederm Moisturizing Cream on high risk areas like elbows and knees then cover the rest of their skin with the Exederm Hydrating Lotion to prevent additional dry patches from popping up. It's a pretty intensive routine when you're dealing with three wiggly young ladies, but it's worth every minute to see their skin so smooth!
Awards and Honors
These products get a very high rating from this mom, but more importantly the National Eczema Association awarded Exederm's products their 'Seal of Acceptance' a few years ago giving them 5 out of 5 stars.
Exederm Price Comparisons and Discounts
I was so relieved to find something that offered relief that price (within reason) really didn't matter to me but I have heard it discussed that Exederm products cost more than some other over the counter eczema treatments. However, you should know that the customer gives a 20% discounts on orders of three or more items and there is FREE shipping on orders over $50 (US & Canada Only).
All of their products carry a complete money-back guarantee which I doubt you will need but it does add a layer of assurance when you've bought several eczema treatments that haven't worked.
To keep up with new additions to their product line and news about eczema, become a fan of Exederm on Facebook or visit the official
Exederm
website online.
And, as always, continue to visit us to see the latest in
baby nursery ideas
and product reviews!