Dinosaur Wall Stickers and Decals Ideas for a Baby Nursery

Dinosaur wall stickers and decals are an easy and inexpensive way to decorate the baby's nursery and we have ideas for you!  The choices range from cutesy Barney decals to ferocious prehistoric creatures that address the challenge of getting your kids interested in natural history at a very early age.

Our decorating ideas will eliminate the need to wait until baby is old enough for a trip to the museum. These wall decorations will introduce your child to realistic skeletal remains of these majestic creatures.
Savvy parents are smart enough to know that kids are much more receptive to the learning process when the lessons are disguised as fun. Dinosaur wall art might be more effective than any other teaching tool.
Dinosaur Baby Nursery Ideas
Dinosaur Crib Bedding
Dinosaur Themed Baby Nursery
Anything is possible! Choose from dinosaur footprints to a complete wall mural. The footprints will stimulate the imagination and a complete mural is an excellent conversation starter leading a child towards knowing the names of the most popular dinosaurs before they start preschool.
Of course, life size is an impossibility because some of these prehistoric lizards were huge. So, scale is very important when it comes to designing a wall mural. But, some of the sticker sets are really, really big and include smaller stickers for contrast. The problem of having one giant dinosaur wall sticker standing alone has been addressed. Most kits include a variety of dinosaurs that children of all ages will enjoy for many years.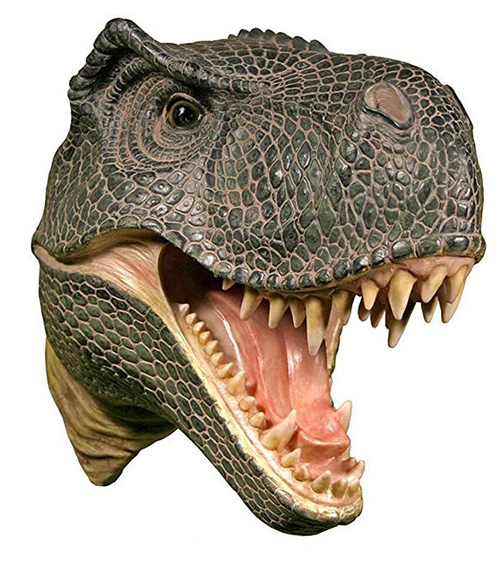 Dinosaur Head Nursery Wall Decoration
Go here to see more
unique dinosaur nursery wall decorations and decals for your decorating project.
The Transition from Baby Nursery to Toddler Room
As the years go by, (and they will faster than we like) the nursery will transition to a toddler's room. The wonderful thing about
dinosaur baby nursery themes
is that makeovers are so easy. Simply add a toddler bed (even easier with a convertible crib) and add a new comforter set.
Over time, dinosaur models and the art the kids helped to create will be added to the nursery wall decor keeping their room's wall decorations looking fresh and new.
Since the decals are removable they can be relocated to accommodate the bedroom furniture without any problems. The reusable, peel and stick vinyl cut outs will always look just as colorful as the first day the arrangement was created.
Remove them when re-painting the bedroom walls, give the walls a fresh coat of paint and reapply them when the paint is dry. Use the smaller decals no longer needed on the wall to decorate the toy chest or the baby's dresser.
The price paid for vinyl decals is an excellent investment as they can be used over and over again in many different decorating projects.
Please visit
Unique Baby Gear Ideas
again soon to see more tips for your dinosaur nursery decorating project.