Ideas for a Dinosaur Baby Nursery
by Jan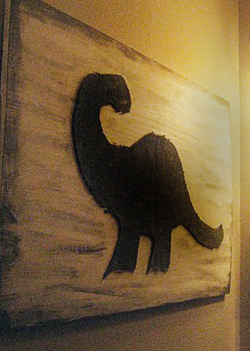 Dinosaur Baby Nursery Wall Art DIY Crafts Project
Here are some craft ideas for a dinosaur baby nursery including a DIY wall art project that will take care of needed wall decorations. And the beautiful part is that you can make the art yourself for cheap!

If you have had the time to take a look at the latest Pottery Barn Kids catalog you know that dinosaur nursery themes have grown up into big boy bedroom themes including rustic, patchwork daybed bedding sets made from Madras plaid fabrics, hooked area rugs and precious prehistoric wall decor (try saying all that really fast).


But you know the Dino wall art with a painted picture of a Brachiosaurus (one of the largest creatures) ever to walk the Earth that is shown in the room that was painted on weathered wood? Well, it's been discontinued and when it was available it was just a tat expensive. But do not despair, Girl in Air's tutorial has all the instructions that you need to make your own Dinosaur nursery wall art including a free printable dinosaur pattern. All you need to make the Dino in any color that you need to match your dinosaur baby bedding set is an old throw rug,some boards and glue in the way of craft supplies.

I don't happen to have a throw rug that I'm ready to cut into the shape of a dinosaur so I'm thinking about paying my local carpet store a visit to dig through their samples. For the boards, I see old wooden palettes piled out in back that they are going to burn..unless I get to them first and use them for crafts!

The color scheme of the pictures had shades of antique white (or cream), brown and many different shades of green with wooden furniture that had been stained in a dark color and the wall paint color is a nice moss green called Potpourri Green by Benjamin Moore Everything looked very durable and perfect for a young boy and I think that the decor in this "oh so stylish" room could be easily adapted for a baby boy's nursery.

If you have any ideas for a dinosaur baby nursery or any tips to share for that matter, by all means do because Unique Baby Gear Ideas would love to see your pictures, too!
Join in and write your own page! It's easy to do. How? Simply click here to return to DINOSAUR NURSERY PICTURES and DECORATING IDEAS.