Top Deer Baby Outfit Picks for Baby Boys and Girls


Today we are sharing our top deer baby outfit picks for baby boys and girls.  One of our favorites, that comes with an adorable hat, onesie and both long and "capri" length leggings is completely gender neutral and so cute that I believe that moms and dads will love it!

We also have some pattern recommendations if you are looking for a pattern to sew your own.
And we will direct you to some sweet, adorable yet funky deer print baby fabrics that can be used to make the baby clothes. Buy an extra yard to make a deer baby blanket or use the scraps to make a crib quilt as an addition to your little one's
deer baby bedding
set.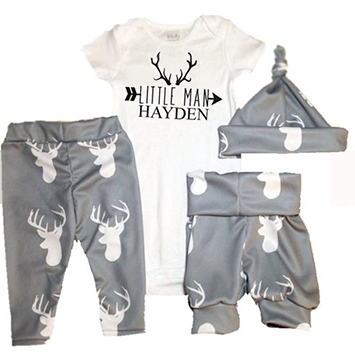 This
collection by Line Liam Boutique in neutral gray custom made from soft fabric with a matching hat would make a delightful coming home outfit for a baby born to a family that loves the sport of hunting.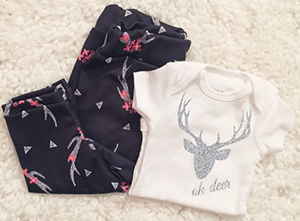 This outfit for a baby girl features a short sleeved onesie with a deer silhouette in silver.
See more infant hats, leggings and personalized onesies here made from soft baby fabrics.
It is one of my top picks for a girl because of the added sparkle in silver, black, white and pink.
Baby's name in hunter's orange really pops on a solid black bodysuit.
I'm not crazy about the hat and burp cloth in white that is included but the boy's name monogram and initial are nice touches.
These are my favorite deer baby outfits and
Unique Baby Gear Ideas
would love to see yours!
Please consider sharing your favorite patterns for baby leg warmers, deer onesie tutorials and fabrics that feature a hunting or nature themed print with our visitors. Feel free to upload photos of baby clothes that you have made yourself with or without a deer theme using one of the forms that we have provided for your convenience. We would also love for you to share your thoughts and opinions on our top 5 deer baby clothes picks that we have shared with you or hear what you look for in the way of style or color when shopping for clothes or gifts of this type for a baby shower gift or other occasion.