Decide.com Review and Free Kindle Fire Giveaway
Visit Decide.com before shopping for electronics!
The Decide.com Review and Free Kindle Fire Giveaway comes just in time for busy moms and dads who have electronics right at the top of their shopping list.
I don't know about you but when my loved ones ask (read: beg and hint for weeks) that they want the latest gadget or electronic device under the tree on Christmas morning, I have to ask myself would it be best to tuck a gift card in their stocking that would cover the gift. I worry that if I buy the gift during the holiday rush that it will be on sale right after Christmas and I will have wasted money. But then again, what if I wait too long and the stores sell out?
This is an especially big deal this year because I've been saving since last year to buy my dear husband every man's dream, a BIG plasma TV. This is a big ticket item and it would be so nice to get some advice on whether or it the price will be reduced after Christmas or if I should act FAST before it's out of stock. Just as I was thinking how nice it would be if the price comparison sites offered this advice, I find Decide.com!
Decide.com not only gives me all the information I need to time my purchase, this website also will tell me if I need to hold off because there's a new and improved model soon to be released!
Since the husband has his heart set on Santa delivering a man-size Samsung Plasma for Christmas I decided to give the service a test-run and see what I could find out about these televisions.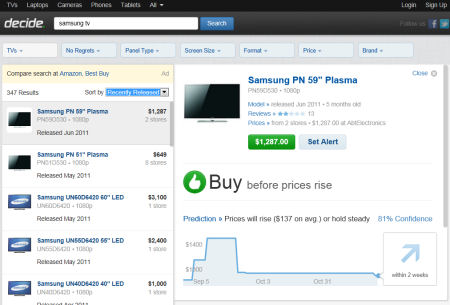 OUCH! The Samsung TV that I was looking at is definitely not going to go on sale! Decide.com tells me that not only is 81% certain that the price will not be discounted on this TV but that I had better get a move on because the price could actually increase!
How disheartening would it be to give up the thrill of having a new television under the tree in hopes of saving money only to LOSE money? Now, if I just had this kind of intelligence available for the rest of the items on my shopping list I would be rocking around the Christmas tree for sure! But since it's Thanksgiving, I'm thankful for having found this site just as it is!
And Decide.com was so easy to use!I was a little worried that a system capable of providing such in-depth level of information would be difficult to use but it wasn't!
All I had to do was key in the brand and model number of the television that I was interested in and up pops a screen with not only the exact item but a whole list of television that the site thinks I might be interested in.
When you highlight and click on the product in the list that you want, as screen will come up with the advice that you need to make your decision. Don't let the graph throw you; as you can see you don't have to decipher the stats. It says in big, bold letters "BUY before prices rise!"
Since Decide.com saved the day on the most expensive gift on my list, maybe I should see about surprising everybody with an XBOX 360! But I'm not sure if a new model XBOX 360 is due soon. Let's see what my new friend says about that!
I entered the search term "XBOX 360" and when the results came in I chose "sort by most recent release" to find that the last release was just this month and that prices were not going to drop any time soon. This means that if I have enough money left in my budget buying this system right now would not be bad idea since it's so new!
They may not have information on toys and other gifts just yet, but they DO have something else that will be nice for shoppers who are out shopping in the malls; a really cool iPhone and iPod Touch application that has some very helpful features including the search feature that I used on my visit to Decide.com. Now I have access to their excellent shopping advice and I'm MOBILE BABY! This app makes it possible for me to scan a product's bar code or the BestBuy QR code right there in the store as well as to search to get price and model predictions and to make comparisons of local retail pricing and top internet retail pricing. This app makes me one more savvy shopper and it made me look really smart to my mom.
After I downloaded the app to my iPhone and went to my mom's house where she happened to mention that she was looking for a digital camera for my sister and a laptop for my dad and was at a loss of where to start, just like me before I visited Decide.com! Just so you know, the service is not just for televisions and gaming systems and computer games. You can find out whether you should wait to buy the latest digital cameras, laptop computers and hardware, mobile phones, digital tablets and home audio equipment now or wait! My mom was so impressed with her smart little girl until I made the mistake of showing her how easy it was to use. LOL
And speaking of readers or digital tablets, Decide.com wants to give you a chance to win one of the hottest products this year, a Kindle Fire Tablet!
The prize they are offering is a Kindle Fire, to be shipped out by Decide.com after the giveaway is over.
See Official Rules. Giveaway will end on December 7, 2011 at 11:59 pm CST. Open to USA Only.
Disclaimer: I received a nominal amount in compensation from Decide.com for providing my visitors with the Decide.com Review and Free Kindle Fire Giveaway. However, as with all of promotions posted on this website, the opinions are my own and are not influenced by monetary compensation. You may read more of my disclosure here.