Cute Baby Boy Quotes for Invitations, Announcements or for the Nursery Wall
One of the most famous baby boy quotes of all that refers to snips and snails and puppy dog tails is still a favorite to frame for the nursery wall but we have some lesser known sayings that new moms can personalize with their baby boy's name or have printed in a color that will complement the room's color scheme.
How many times have we heard the saying "He's ALL Boy"? What exactly does being all boy mean to you?
I believe that what they mean to say is that the little guy is rough and tumble and into everything.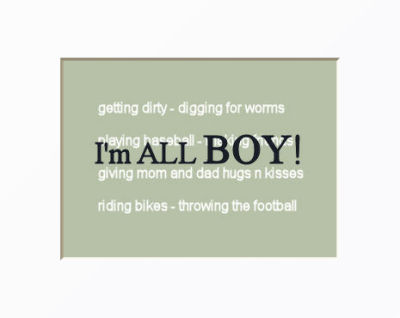 Sports, bugs, worms and wearing holes in the knees of his jeans and going through a pair of sneakers a week are what I had in mind when I put together the above quote for a
baby boy shower invitation
and later framed it to hang on the wall in a
baby boy nursery
that I decorated for a friend.
The bond between mothers and their sons is a strong one and perhaps the reason is that every little boy's mother is his first love and the best friend he will have his entire life.
One of my favorite
baby boy quotes
is a short and sweet by none other than the famous Benjamin Franklin.
I like it because it offers advice for how to become a fine man. And isn't that what all moms and dads want for their baby boys, for them to grow up to be strong and make them proud?
This baby boy quote puts into words the feeling that so many parents have when the new baby is first placed in their arms.
How can such a small little boy fill a heart with such love?
These are just a few quotes about baby boys that would be great to include in your son's nursery decor. If you have a picture of one that you have framed or had made into a decal for the baby nursery wall, please use the form that we have provided for your convenience on this page to share it with visitors that stop by Unique-Baby-Gear-Ideas.com searching for sayings about baby boys. Feel free to browse the rest of
Unique Baby Gear Ideas
to see many ideas on how you can use free, printables to decorate your baby's room and other areas of your home.