Personalized Baby Car Seat Cover Ideas
How to Make Your Own Custom Baby Seat Covers

We have ideas for custom baby car seat covers that you can make and personalize yourself! You can recycle your old seat with a few yards of fabric (as well as your stroller and your baby carrier canopy) so don't toss any of these items just because the fabric of the cushion covers are stained or worn.
The old seat covers can be replaced with cute, personalized seat covers handmade from beautiful fabrics embroidered with your baby's name.
When baby spits up it doesn't matter a bit that you paid a pretty sum to get a top of the line baby seat like Britax or a top-rated Graco. The unavoidable food stain should be expected when raising children. No matter how damaged your cushion cover may be, replacement covers are available to help you avoid having to buy a new one.
How to Make a Baby Seat Cover Pattern
Baby Seat Cover Canopy Patterns
How to Recover a Baby Stroller Seat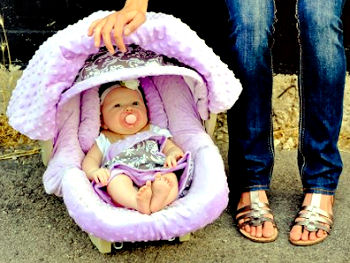 Go here to see more
baby seat covers and supplies.
You can simply remove your old infant seat slip cover and install a new one. Never compromise the safety of your child just to get a more attractive baby seat. The safety straps and buckles must operate the same as they did with the original upholstery.
Will Changing the Cover Make the Seat Unsafe
Here are some
DEADLY MISTAKES PARENTS MAKE
with their children's seats that you need to be aware of.
If you have doubts as to whether a replacement cover that you find online will maintain the safety features of your child's safety seat by all means, buy a new seat or contact the manufacturer and check to see if they offer replacement seat covers for your model.
Another option would be to use the original cover to make a pattern. If you sew, we have some tips on how to make a baby seat cover replacement using a pattern. If your sewing skills are less than super, I would suggest that you visit your local upholstery shop or even the lady that does your alterations and announce that you would like to have a custom baby seat made. Carry your old car seat cover with you when you go so that the workers can make an accurate pattern.
HERE'S THE FUN PART!
The fun of getting a custom car seat cover is that there are so many cute fabrics and notions available that the sky is the limit. Be sure that you use caution when choosing decorative sewing notions for your replacement baby seat slip cover and avoid decorations that might present a choking hazard and consult with professionals to be sure that the safety features of your gear is not compromised.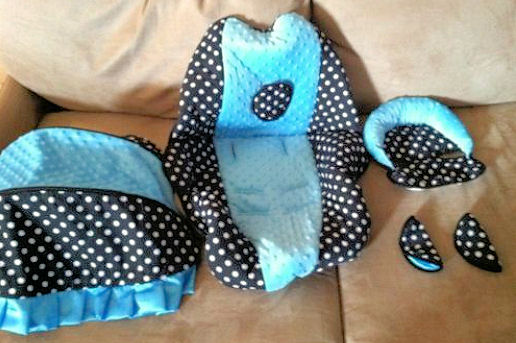 An example of decorations to avoid would be the trim with pom poms as baby might pull the little fuzzy balls off and put them in his or her mouth. Always use your own judgement and that of trusted child safety professionals to assess any possible safety hazard.
CUSTOM BABY SEAT COVER FABRIC
Any upholstery weight fabric will give excellent results. Of course you should be sure that the material is machine washable. I have seen pretty seat covers made from old chenille bedspreads and cutter quilts. The facts are so long as the material will survive frequent machine washings and is not a choking hazard, it won't hurt to give it a whirl.
PERSONALIZED BABY CAR SEAT COVERS
One of the most baby safe ways to personalize baby clothes and gear is with embroidery. A monogram or baby's name embroidered in the center of the seat cover makes a lovely personalized baby gift. Please send pictures when you finish! I'll put up a special page for them!
Return to
Unique Baby Gear Ideas
to find more information on how to replace your
baby car seat covers
with one that is modern and cute that has no stains.