Blue and Brown Baby Nursery That's "All Boy" for Lucas
by JLB
Our blue and brown nursery that's "all boy" for our baby boy, Lucas, turned out to be so cute that I just have to share. It was decorated with love and lots of ideas that I found on Pinterest and other blogs that I used as a foundation and then added my own touches. I took other parents' arts and crafts projects and then made them my own by changing the colors and basic designs and you can so the same for your own project. Most moms expecting a boy will love the blue and brown color combination AND the wall painting technique is totally awesome!


The stripes are so perfect that it's difficult to fathom that they were actually done with your typical run-of-the mill paint brush. The ones that I buy just don't (won't?) do that; will yours?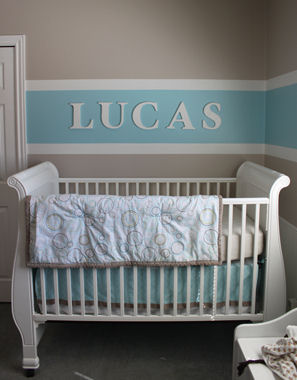 Go here to see more
products that will inspire ideas for a blue and brown nursery.
Painting skills aside, the colors used are so soft that they almost seem to have texture. The nursery wall letters framed by the painted horizontal stripes are (in my opinion) the perfect decoration for the wall behind the crib. Good job, JDaddy!
The atmosphere is so peaceful and serene so much so that I knew that it couldn't have come about by accident. And I was right! In reading some of the posts on Lucas' mom's blog blog, The Daily Dribbles, I learned that she and I share the opinion that a nursery for a baby boy or girl is
NOT
just a room where the baby sleeps.
Go here to see more
Finding a crib set featuring a blue and brown color combination to use as an inspiration piece is an excellent means of avoiding costly decorating mistakes.
There is so much more to a child's first room than four walls, doors, furniture and decor. It's a place where the bond between parents and children originate. It would be impossible to put a price tag on precious moments passed just rocking and loving each other and the more comfortable and pleasing the surroundings are the better. That's why I think that helping moms find the perfect nursery decorating ideas is so important. We don't decorate to impress or compete with the Joneses. We do it to set the scene for memories that last a lifetime.
A special reading nook or corner with a comfy rocking chair and a handmade baby quilt made by a loving grandmother is always a good thing.
The circle shaped wall decals reflect the pattern of the baby bedding set.
Thanks so much to Kmama and Jdaddy for sharing them with the dads and mommies-to-be that visit
Unique Baby Gear Ideas
and it would be so nice if everyone will leave a comment on their blog to tell them how much you enjoyed seeing their nursery pictures.