Stylish Black and White Baby Nursery Decorating Ideas and Room Decor
If you prefer modern nursery design, black and white bedding may be the best choice for the sophisticated look that you desire. Contrary to popular opinion, crib bedding sets don't have to be colorful to be cute and they don't have to be baby blue or pink to announce whether the nursery is occupied by a baby boy or girl. A high contrast print can be as feminine or as masculine as you want depending on the accessories that you choose.

There are all kinds of scientific studies that say babies see contrasts much earlier than they can determine actual colors. Whether or not a set of nursery bedding will raise your infant's IQ is beyond me, but I can say that you will be amazed at how versatile that crib sets with a monochromatic layout can be.
Accent Colors
I'm always interested in ideas for decorating a baby nursery using red. I love the color red, but using it in a baby's room can be difficult. Bright primary colors can be exciting and most moms don't' consider exciting to be a good thing when baby is crying with colic in the middle of the night. With black and white baby bedding and nursery decorations in the background, there's a chance to bring in bright primary colors like red that will stand out and yet don't overpower the bedroom. The same goes for other brilliant colors like
Lime Green
Neon Blue
Hot Pink or fuchsia
Sunflower yellow
Black and White Toile Baby Bedding
Black and White Baby Shower Invitations
Black and White Crib Mobiles
Modern Black and White Baby Bedding
Black and White Damask Baby Bedding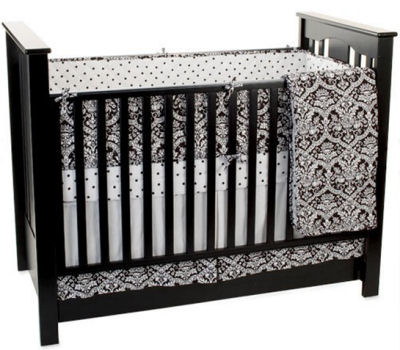 black and white crib bedding sets for a monochromatic baby nursery design.

Patterns and Prints
Black toile baby bedding in children's print fabrics has been a classic favorite for several years. I don't see black toile becoming any less fashionable, but decorating trends for the baby's nursery have begun to embrace geometric and abstract designs. Black or white bedding with bold graphics is perfect for this style of baby decor.
Baby Nursery Themes in Black and White
Many parents prefer that their baby's nursery have a theme. Even thought many consider modern to be a theme in itself, you might be wondering whether there are other trendy baby nursery themes will work with black and white bedding sets. Vintage storybook themes like Beatrix Potter or Peter Rabbit that are traditionally illustrated with delicate colors would be a bad choice, but beyond that you are limited only by your imagination.
Baby Boys Nurseries
For baby boys, superheroes would really shine against a background of black and white bedding. Wouldn't a Spiderman theme look stunning against a black spiderweb on a field of white? Robots is another theme that a boy could grow with. Bright red, blue or chrome robots would make great decorations for any boy's nursery or bedroom.
Decorating Ideas for a Black and White Baby Girls Nursery
A trendy, sophisticated diva nursery for a baby girl would be fantastic. Try thinking in terms of hot pink sunglasses, high heels and hats or bold red lips in your baby girl's room design for a funky one of a kind look that will be on the cutting edge of baby decoration.
Gender Neutral or Unisex Decorating Ideas for Black and White
Baby footprints and hand print graphics are being used to decorate baby collectibles and keepsakes, and they will be very much at home in a monochromatic nursery. Your footprint or handprints can be stamped in dark black or go wild with primary colors.
Polka dots are very popular and completely gender neutral. Again, you can opt for a colorful display or go black on white or the reverse and add a stimulating black on white baby crib mobile to keep it interesting in those early months immediately following the baby's delivery when baby's vision is not fully developed.
To be sure, modern baby room designs that are ideal for black and white baby bedding and nursery decorations aren't for everyone, but for the parent who prefers futuristic, modern decor it might be one of the best baby nursery color schemes around.
Make plans to visit Unique Baby Gear Ideas often to see new black and white nursery designs and bedding sets!