Brown and Pink Baby Shower Decorations
by Jan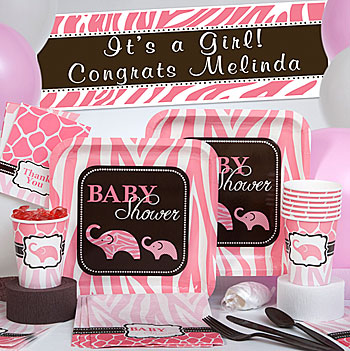 Brown and pink baby shower decorations with zebra print, giraffe print and elephant graphics for a baby girl.
The brown and pink baby shower decorations that I used to decorate was the inspiration for the party's color scheme. I ordered the supplies online and when I saw how CUTE they were, I went into hostess overload and ordered personalized candy bars, party favors and mylar balloons because they were just too cheap and too adorable to resist!




Go Here to See More
Do Yourself a Favor and Get a Kit
With at least 8 guests expected I saved time AND money by ordering a kit. I saved money (40% discount!) AND time and as we all know; time IS money!
I got 8 of everything (twice that number of napkins) including:
•Dinner Plates
•Napkins (16)
•Large 9 oz. Hot/Cold Beverage Cups
•Thank You Cards
•Chocolate Brown Plastic Cutlery Set
•(12) 11" White and Pink 11" Latex Balloons (12 each)
•(1) White 54" w x 108" Plastic Tablecloth
•66' Curling white ribbon that I used to decorate the balloons and my own personal gift box!
I'm not sure why the party kit includes thank you notes for the gifts and no birthday party or
baby shower invitations
but hey, it's still a really good deal.
In addition to the tableware I received:
•(1) 10" x 30" Party Banner
•An eye-catching Wild Safari Pink Metallic Party Balloon
•(1) 81' Chocolate Brown Crepe Paper Streamer and an 81' White Crepe Streamer
for just $10 more.
I only used a few of the basic decorations to avoid that "matched" look. Even though I bought some lanterns, pom poms and other things to decorate with the tableware were so cheap that the kit was still the best route for me.
PINK and BROWN BABY SHOWER FAVORS
The favor boxes that matched our decorations were so precious that I used them even though I had plans to
make my own baby shower favors
.
They had the same pretty, pink elephant, zebra and giraffe pattern as the decorations PLUS the "baby shower" medallion surrounded by polka dots and a chocolate brown ribbon to secure the favors inside. And the cost very little for a package of 12! When have you gotten 12 of anything for less than $5? Now, what did we fill our amazing favor boxes with?
PERSONALIZED CHOCOLATE CANDY BARS
My co-hostess and I wanted a saying for the personalized candy bar wrappers that went beyond the traditional "Congrats" or "It's a Girl!". We could have reduced the size of the font and had a short verse or poem printed on the wrappers but this wish says it all!
PERSONALIZED MINT TINS
I love the personalized pink and brown mint tins best of all because they can be used over and over reminding our guests what a great time they had at our party!
We added some tubes of pink, chocolate flavored lipgloss to the personalized favors, tied the ribbons on the boxes into a bow and called it a day. I would say that since our guests have already called to ask where they can find the items that we put in the goodie bags that we made excellent choices.
PINK and BROWN BABY SHOWER CAKE
If you have dropped by
Unique Baby Gear Ideas
looking for baby shower ideas you already know that I don't claim to be nearly as talented or creative as the incredible moms behind the pictures in our gallery.
But when the brown and pink decorations were delivered, I was so excited I decided to jump in and try my hand at making my own pink and brown baby shower cake decorated with polka dots and a big, pink fondant bow! To be honest, the cake had one bad side but the fondant camouflage did a great job of hiding it and I learned that making your own fondant baby shower cake is CHEAP compared to buying one ready-made! Plus, I was able to tint the fondant to match the colors of the brown and pink baby shower decorations perfectly!