Baby Quotes and Sayings for a Newborn Boy or Girl Nursery
Baby quotes and sayings often put into words the love that we as moms and dads feel for our newborns as well as wishes that we have for their lives. As parents, the power of a short phrase to make us smile, retreat into a pensive recollection of days gone by or to offer inspiration to get us through difficult moments of struggle in our lives is truly amazing.
For this reason, inspirational Bible verses and quotations are being framed and used as decorations on baby nursery walls and baby shower invitations as well as short, funny
baby quotes
on onesies and diaper covers.
These sayings offer support and encouragement in difficult times when a little one may be feeling under the weather or when things simply are not going as well as we planned or might have thought.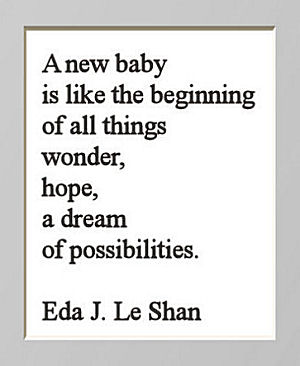 Motivational words of wisdom taken from religious texts or that famous quotes attributed to a person worthy of respect can offer hope and spiritual guidance on the darkest of days perhaps after a miscarriage or the tragic death of a child.
Cute Quotes About a New Baby on the Way
I like to include a short, funny quote to personalize my baby shower invitations if the event is going to be a casual affair. My thoughts are that if the saying on the card makes the recipient laugh; they will look forward to being a guest at my party! When I host an elegant baby shower that calls for formal invitations, I will go with a Bible verse (assuming the mother-to-be is Christian) or a motivational quote about the joy that new babies bring to our lives.
When you are visiting other pages on Unique-Baby-Gear-Ideas.com you will notice many framed baby quotes and sayings that pertain to a particular nursery theme or baby's name. I hope that you will consider sharing your favorite quotes about babies with visitors of
Unique Baby Gear Ideas
using one of the forms that we have provided for your convenience.