Sweet Woodland Forest Baby Photo Posing Ideas

The woodland forest baby photo posing ideas for newborns on this page will help you to create a rustic background and stage a peaceful setting using props that will be as useful in the day to day care of your infant as they are as photography props.

Items already on hand like receiving blankets with deer themes, outdoorsy outfits and hats can be used to give even the most amateur photographer an edge.
Mom and Dad may not have elaborate studio lighting or have access to the backgrounds that professionals have at their disposal but they have one major advantage; they love their babies and know how to pose them to show them at their very best.
Go here to see this and all other
photo props featured in our woodland forest baby photo posing ideas.
A gently curved cradle made of rustic logs and a soft swaddle blanket with a baby deer pattern are the ideal props for this theme. Simply wrap your newborn in a blanket (that was perhaps on your baby registry?) and get your camera!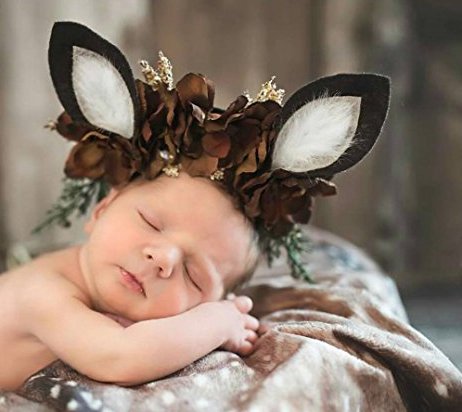 What a sweet closeup of a sleeping baby wearing a custom headdress of silky, soft deer ears posed atop a baby blanket featuring a baby fawn print complete with spots.
Go here to get helpful newborn baby photography tips on dressing, lighting and camera settings.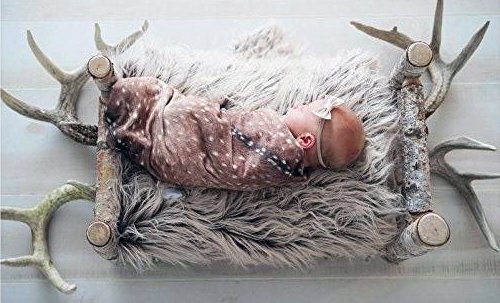 How to Make a Log Baby Crib to use as a photo prop.
If you are unable to find a quiet place outdoors to use as a natural setting for your little one's first photo shoot simply dress the infant in his or her best outdoorsy outfit and position baby on a faux deerskin for effect.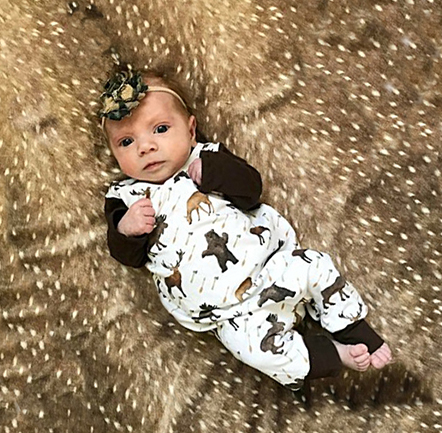 They are many items commonly used in decorating a rustic nursery theme that can be used to add interest to your pictures. Including stuffed animals, receiving blankets and crochet baby hats with an outdoorsy vibe in your baby's first portrait shoot is an excellent way to guarantee that objects with sentimental value, handmade by loving hands will be never be forgotten.
Unusual and Unexpected Photo Props
Beyond the usual suggestions for decorative household items such as baskets, etc. there are other pieces of nursery decor that can come to our aid in the creation of a setting with forest themed atmosphere. One posing idea that is often overlooked; dresser drawers.
Layer a soft sheepskin or length of faux fur fabric inside a dresser drawer to give the setting an appropriately rustic look as well as to keep baby comfortable, place in a spot to where your props will receive indirect lighting from a window and start shooting! This pose will produce spectacular shots of your sleeping baby.
Our especially creative visitors might jump into one of the DIY craft project tutorials for woodland themed props such as the amazing tree stump storage ottoman and others that we have featured here on
Unique Baby Gear Ideas
. Take a look before you move onto our next idea for posing your newborn for his or her portrait shoot.