NEW! Baby Nursery Painting Ideas, Designs and Techniques for the Walls in Your Baby's Room
Our readers have been very cool about sharing their cute baby nursery painting ideas with visitors to our nursery decorating website. They not only submit pictures of the rooms that they have decorated for their baby boys, girls, twins and even bedrooms that are shared with an older brother or sister but these decorators often give instructions to help others dream up their own ideas for personalized nursery walls painting projects.



Visitors Looking for Unique Ways of Painting the Baby's Nursery Room Walls Also Enjoyed these Pages:

Baby Nursery Paint Ideas

Nursery Wall Stickers

Nursery Wall Letters

Nursery Quotes




Many parents submitted pictures to our contest filled with images of creative, hand painted nursery wall murals that were designed based on baby nursery themes that they found on this site. Others used our instructions for various decorative wall painting techniques as inspiration for their do it yourself painted wall decorations.






It's easy to know which baby nursery painting ideas are best for you by examining your baby's crib set or whatever inspirational item you prefer. The key is to follow the same rules of interior decorating when planning your nursery design as you would to decorate any other room in your home.
TIPS ON PAINTING A CLOUD WALL MURAL and MORE!


CLOUD
STENCIL PATTERN
Whether it's something simple as a cloud mural or wall covered in characters, a painted mural on your baby's wall can be both eye catching and educational. And you don't have to be very artistic to stencil a large jungle scene including all the birds, animals and foliage you could ever want. Or, you could buy a wallpaper mural and have it in place in a few hours. However, small nurseries will seem even smaller with a big wall mural and if your bedding has a very active print you might want to tone down the activity in your nursery wall painting.
WILL STRIPED WALLS WORK?


STRIPES
CHECKS STENCIL
Even if the fabrics that you plan to use are busy as can be, there are more options open to you than one solid color wall. Even the most colorful floral print can be fabulous with painted wall stripes in the background. Choose your colors carefully and you will be amazed at how the striped and floral patterns complement each other.

DIAMOND WALL PAINTING - STENCIL or TAPE?


DIAMOND
HARLEQUIN
STENCIL PATTERN
When it comes to baby nursery wall painting ideas, diamonds are almost as versatile as stripes. You can stencil the pattern on the wall or more advanced painters can tape off their pattern. If you are the adventurous sort, you might consider an argyle design using three colors rather than the two that are most commonly used in diamond or harlequin wall painting techniques.
TEXTURED WALLS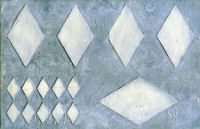 DIAMOND
TEXTURED STENCIL
Textured walls in formal areas of the home are a grand way to announce that "this room is important". The additional time it takes to apply and manipulate the compound in a pleasing fashion is worth every minute. But this is not the best of our baby nursery painting ideas for walls that are destined at some point to be sticky and in need of deep cleaning.

HOW CAN I JAZZ UP SOLID COLOR WALLS?
If stripes, diamonds or other baby nursery painting ideas using patterns are not a good fit for your room the answer may be to paint the upper or lower portion of the walls in a different color. You will need a wallpaper border or a wooden chair rail to cover the line where the two wall colors meet to give your paint job a finished, professional appearance.
Perhaps the least labor intensive and by far the cheapest baby nursery painting idea are to paint an accent wall. One accent wall painted in a coordinating color will give you more decorative bang per dollar than most any other baby nursery painting idea that I can name in the least amount of time. Plus, it is a perfect starting point for beginners who are new to the world of DIY.
WHY PAINT IS GREAT
The great thing about paint is that it is relatively cheap and there are so many ways that we can use it to express ourselves. The baby nursery painting ideas that are mentioned in this article are just the tip of the iceberg. Use your imagination and take advantage of this opportunity to let your unique personality shine in your work.
Please make plans to visit us again soon to see this season's latest baby nursery ideas for painting the walls of your baby's nursery.