Baby Monitor Mounting Ideas
Getting the Perfect View of Your Baby

On this page we have a list of recommended baby monitor mounting ideas that will help you to get the best view of your infant in the crib.  After all, what good is a top of the line video monitor with no clear line of sight to your child's sweet face?   
We will explore several approaches available to concerned parents that can be used to mount their equipment.
The goal is to position the monitor in a spot that will not compromise baby's safety or the design of the nursery that mom and dad worked so hard to achieve.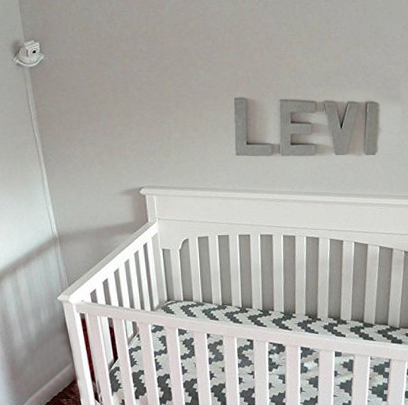 Do you see the baby monitor shelf positioned high in corner of the nursery in the picture?
Go here to see how versatile this shelf can be.
Advantages of Using A Shelf for a Baby Monitor
The simple and possibly the most inexpensive spot for a baby monitor would be on a wall shelf. Placing the camera on a small wall shelf has several advantages:
1. Cost. A shelf for a baby monitor could be picked up at a yard sale or secondhand store for as little as a dollar, painted to compliment the nursery's color scheme.
2. Placement. There are endless possibilities for locating a small shelf either on the wall or in a corner where it would not conflict with an arrangement of artwork or decorations while providing a perfect view of the baby in the crib.
Disadvantages of Using a Baby Monitor Shelf
There may also be drawbacks for choosing shelves rather than another option. For instance, the shelf would need to be relocated every time the crib is moved.
As far as shelves go, corner shelves that feature a "peel and stick" mounting system for quick and easy relocation is very popular as well as another product called the "Pocket Shelf" that mounts to the wall using Command adhesive strips. Choosing shelving that is easy to mount and relocate seems to be the key to consumer satisfaction.
What Else is There to Pick From? We have several other baby monitor mounting ideas if corner shelves or flat shelves not be a workable solution in your space.

Baby Monitor Tripods
A tripod may be the answer if you have a spot on the baby's dresser or even a windowsill available. Their flexible nature will allow you to make adjustments that will mount the baby cam or even your iphone at the best angle for viewing.

The problem with tripods that are being sold currently is that they will not work with some brands. The key is to find a tripod that you want first and then avoid the excluded models and you are in business!

Baby Monitor Crib Clamps
Some parents have asked about clips or clamps that could be attached to their monitor in order to hang the device from the crib rails. I check to see if I could find any but had no luck. I did come upon an interesting "baby movement monitor" which is a motion sensor that attaches via clip to the waistband of a baby's diaper but no crib clamps.

The Bottom Line
It would seem that shelves and tripods are the best baby monitor mounting ideas that Unique Baby Gear Ideas can offer right now. Perhaps some moms and dads will come forward with other ways to mount the baby cam beyond what we have shared here. If you have any tips, please feel free to chime in, join the discussion and share pictures of solutions to this particular problem.