Baby Girl's Pooh Bear Nursery
by Rhea
(Forsyth, Missouri)
My baby girl's Pooh Bear nursery was a bit of a challenge to decorate since I wanted her room to be feminine and "girly. Since a Winnie the Pooh theme is most often used in a boy's room, we had to achieve our goals with a creative and a combination of decorations.


Most of the decorations that have been incorporated into the nursery's design are things that my husband and I have collected over the years and want to enjoy with our daughter.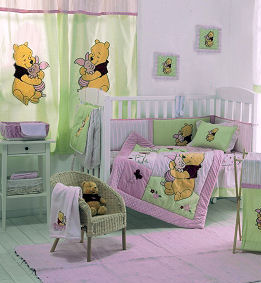 Go here to see more
crib bedding sets and pink Winnie the Pooh nursery ideas for girls.
Our collection of treasures is not exclusive to Pooh Bear and friends. For example we spent our honeymoon in Belize and picked up an awesome jungle crib mobile as a souvenir souvenir so rather than buying the mobile that was part of our baby girl's Pooh Bear nursery bedding set she has a jungle crib mobile.
While serving in the Air Force in England, we started a collection of the cute puppet dragons that includes Winkin, Blinkin and Nod, the characters from the popular nursery rhyme. Dragons may be included in the cast of characters in the storybooks but here they are and I think that they work very well!
Our baby's Winnie the Pooh nursery got a splash of
Classic Pooh baby bedding
as well as other decorative elements that came together as a result of our love of browsing through thrift stores and flea markets collecting items that we love.
The Pooh Bear Nursery Colors
We added a little three color wallpaper border that included the colors green, chocolate, and pink that are reflected in the crib set as well as many of the other items on display.
Decorating the Room to Grow with Our Baby Girl
We tried to decorate the nursery in a style with colors that will make it very easy to change later on when new babies make their appearance. The colors are very feminine just like we planned but not so much so that we will need to redecorate for the toddler years.
We are now awaiting the arrival of little Audrey. We are anxious for her to take her place with the puppies and monkey decorations in her pretty nursery that we have prepared for her with so much love.
Her brother and sister, Bowser and Peach the puppies of the house, are amused and seem to love the lavender area rug. They are slowly getting used to the decorating changes too.
From the Webmaster:
Thanks for sharing your lovely Pooh Bear nursery with visitors of
Unique Baby Gear Ideas
.