Baby Boy Owl Nursery Decor
by Jenna
(Camp Lejeune, NC)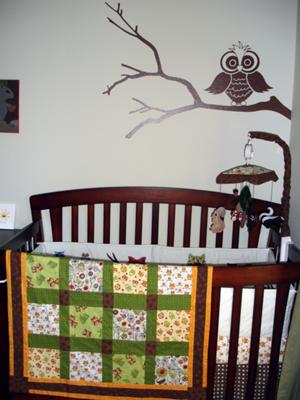 OWL Love You Forever Baby Boy! Homemade owl baby bedding and nursery decor
As you will see, much of our baby boy's owl nursery decor was homemade. I pretty much made everything myself including sewing the baby bedding set. The reason I took the DIY approach which was very time consuming was because I wanted to do an owl themed nursery for my third boy, but couldn't find anything that I really wanted for the room in my price range.


It quickly dawned on me that this was the time to put my newly acquired sewing skills to use and make everything that I needed to decorate my baby's room.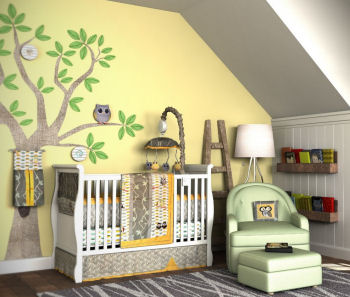 Go here to see more
owl themed nursery ideas for a baby boy.
With a pattern for baby bedding in hand, I bought fabric and made his crib bumper, fitted crib sheets, crib quilt, pillows, blankets and changing pad cover myself.
For the bedding, I chose fabrics with an owl print in warm, earth tones. I used fabric with large owls for the bumper. The pattern was laid out in such a way that I was able to make the quilted bumper with the owls positioned as a border around the crib looking almost as if they were appliquéd and then quilted. To make them stand out I used lots of small-print, coordinating fabrics for the crib sheet and then used a dark, chocolate brown and cream color fabric for the crib skirt whose color coordinates beautifully with the color scheme of the other fabrics.
Since there were so many earth tones in the rest of the bedding, I chose a green, yellow and white color scheme for the patchwork crib quilt with brown as an accent color to tie everything together. The blocks are stripped together with forest green fabric and the quilt's border is made in a chocolate brown and gold color with large squares of chocolate brown fabric on all four of the quilt's corners. The dark brown color is a very good match to the brown owl wall decal over the baby's bed.
After I finished making the crib set, I painted some wall art that featured many of the same cute woodland creatures that are hanging from the baby's mobile including squirrels, baby deer and even a little skunk! After the artwork was done, I also painted the picture frames, storage baskets and a wall shelf for the room.
Since we weren't allowed to change the paint color of the walls in the room, I found a self-stick wall cling of an owl perched on a tree branch to perch above the baby's crib.
I love how our baby boy owl nursery decor turned out and most of all I love that almost all of it was made for him by his mommy with lots and lots of love!
From the webmaster:
Thanks so much for sharing your owl
nursery ideas
with us, Jenna! It would seem that your sewing skills not only made your
baby boy owl nursery decor
one-of-a-kind but saved you a lot of money!
The owl themed fabric that you used to make your own baby bedding is adorable and I know you must have spent hours and hours making your selections. Would you be willing to save another mom who might want to use your owl nursery theme as inspiration some time and tell us where you bought the fabric and their name? Also if you could tell us where to find the baby bedding pattern that you used and the cute owl wall decal it would be a big help!
Thanks for sending in pictures of Trayson's owl nursery so that others that visit
Unique Baby Gear Ideas
can enjoy them.