Alien Pictures - Ideas for a Baby's Outer Space Planets Nursery Theme
We have examples of friendly alien pictures that will be perfect for your baby's outer space nursery theme complete with rocket ships and planets to complete the display. Some parents may prefer to frame actual photographs of aliens whose authenticity may or may not have been proven beyond a reasonable doubt while others may find the grainy, black and white pictures of aliens less appropriate for a kid's room.



Planet Nursery Wall Decals

Robot Baby Bedding

Robots and Rockets Baby Nursery Theme Ideas



For a baby's room we suggest that you focus on colorful, cartoon aliens are so much more fun. Would you really want to decorate the room with pencil drawings of aliens made from the memories of people who have been hypnotized in order to remember what the aliens looked like that abducted them for a ride in their space ship?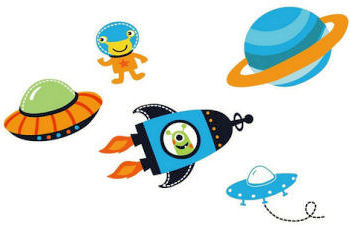 A display like this
on the wall is all you need to bring a little fun from outer space into your decorating project.
As I mentioned earlier, it's best to decorate in such a way that won't give the kids nightmares. Most parents prefer funny, cartoon aliens flying by the planets in their rocket ships but fans of alien movies might have a few posters in their collection that can be framed and displayed on the
nursery wall
.
ET MOVIE POSTERS
Creatures from outer space don't have to be scary monsters as seen in the blockbuster hit film, ET. They can be cute, loveable and if you play your cards right; excellent wall decorations for your future astronaut's bedroom. For young children, ET movie posters will provide an excellent background for a collection of alien memorabilia that you collected when you were a kid. That just goes to show that even alien images can be sweet. Save the more graphic alien pictures for later. For now, funny cartoon alien pictures or images of ET will be all the space creatures that you could ever want for your child's room.
PICTURES OF ROCKET SHIPS
If the idea of decorating a room with pictures of aliens doesn't grab you; there are some really cool pictures of alien spacecraft or cartoon rocket ships that might do the trick. Have your child make his or her own drawings of rocket ships or frame a few rocket ship pictures or art prints. There are some excellent photographs of rocket ships blasting off to pick from and I recently received a photo of a children's mural filled with rocket ships and planets in orbit around the bedroom walls that was beautifully done.
ASTRONAUT PICTURES
Why settle for unverified pictures of space monsters when you can frame real live astronaut pictures in their space suits? Many parents would rather decorate their child's bedroom walls with a gallery filled with pictures of astronauts than weird space creatures, but you have to admit those alien pictures are pretty cute.
Return to Unique Baby Gear Ideas to find pictures of nurseries to use as examples for your decorating project. We have baby boy nursery pictures, baby girl nursery pictures, bedding and decorative accessories for many themes.