Alice in Wonderland Nursery Theme
by Katy
(Brooklyn NY USA)
Our baby girl's Alice in Wonderland nursery theme was inspired by the fact that both my husband and I loved the story of Alice in Wonderland when we were growing up. And the characters of the story lent themselves surprisingly well to a modern red, black and white nursery color scheme filled with high contrasts that we hope our baby will find visually stimulating.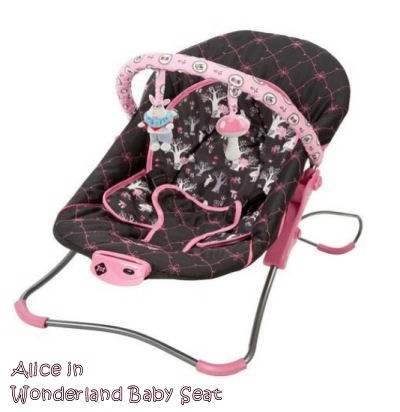 Go Here to See More
This worked perfectly in our situation because we could not paint the walls of the nursery. Even though they were painted plain old white, this was the best wall color to use as a background for our
Alice in Wonderland nursery theme, decorations and decor
.
Our decorating inspiration came from the classic John Tenniel illustrations in the kids' storybook.
I searched for how to make your own silhouettes and then created the black and red silhouettes that you see in the nursery pictures out of neoprene from the local arts and crafts store. I used double stick tape to adhere them to the wall semi-permanently.
We picked up some vintage picture frames as well as tea inspired wall pockets that were in keeping with our Alice in Wonderland nursery theme from auctions on ebay and from local thrift stores. I spray painted them in a matching black lacquer.
The red and black checkerboard floor pattern was inspired by the checkerboard in Alice Through the Looking Glass. The layout was achieved using rubber tiles ordered from Softtiles.com. They are not only cute, but very soft, warm and washable.
The white glider was purchased from Babies R Us. I made my own red slip cover for the cushions and made pillows and valances in a matching Alice in Wonderland cotton print fabric from superbuzzy.
The baby's changing table and organizer are both from IKEA and are unfinished pine. The white side table and red lamp are also from IKEA. I added a box with faux cookies reading "eat me" and a bottle with faux red liquid reading "drink me". Both the box and the bottle were purchased on ebay. The key on the table is also a neoprene cut out.
Most all the decorations in our Alice in Wonderland nursery theme are based on characters and scenes taken from the storybook. There are references to the Mad Hatter, the March Hare, Alice and tea party decorations.
From the Webmaster:
Thanks for sharing your beautiful nursery with our visitors. It will help other moms in making decisions on
Nursery Bedding, Nursery Themes and Nursery Decorating Ideas
to this lovely room that you decorated.
Baby nursery rhyme themes
and storybook themes are so much fun!