Make a Wooden High Chair for Baby
The common, wooden high chair is one of the most cherished and useful pieces of baby furniture. With the kitchen being the heart and soul of the household, the pads and covers of wood high chairs for babies tend to reflect the colors and style of the decor of this popular room.


Wooden high chairs come in a variety of finishes. There should be no problem with finding a match for your kitchen cabinets and dinette sets. The great thing about wood is that you can paint, stain and give that old antique a completely new look. The finishes can range from your rustic lodge style nursery decor to dark mahogany and even as light as pickled oak!


There are some very trendy high chairs made of wood! The Zapf Baby Born and the Chou Chou high chairs are both wooden, but are very sleek and modern in style. Both are painted in fun colors of pink, yellow and periwinkle blue. They also have adorable painted designs featuring ducks and children's scenes. These should not be confused with antique pieces favored for a vintage or Victorian style nursery theme. These chairs are very edgy; just happen to be made of wood.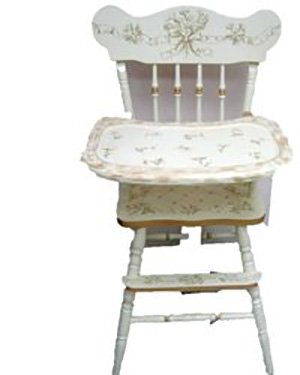 Go here to see more



The Eddie Bauer high chair is one of the more popular choices in wood baby chairs available today. This is due to the fact that it has all of the features that moms are looking for in a baby seat! According to product reviews, it's sturdy, easy to keep clean and is very attractive! If this model works with your decorating scheme, you may want to check it out. It never hurts to read as many reviews as possible when shopping for as nursery furniture can vary in both price and quality. New wooden high chair pads can be made each and every time you change your kitchen wallpaper or curtains. What a cheap way to get a new look! There are patterns available so that you can sew your own pads or you can buy them ready made!
If you have had a little problem with keeping your baby high chair replacement pads clean, find a pattern you like in vinyl or slide your cushions inside a clear plastic envelope that can be used over and over! It will be super easy to keep clean and you can keep things looking fresh and new!
Please visit Unique Baby Gear Ideas often to get the latest information and consumer reviews on baby chairs.