Where the Wild Things Are Baby Nursery Wall Ideas
by Allison P
(Gahanna, OH Ohio, USA)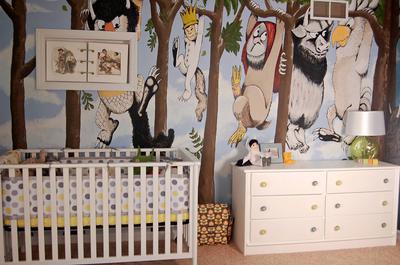 Where the Wild Things Are Baby Nursery Wall Mural
I want to share some Where the Wild Things Are baby nursery wall ideas with all of the DIY decorators out there! My husband, a teacher, has spent his summers painting the nursery wall murals in the room that will someday be our nursery.


In our discussions before starting the project, we knew from the start that we would want to incorporate our favorite childhood stories in the the decor.
We studied lots of
Where the Wild Things Are baby nursery ideas
and agreed that the characters from this book would be the focal point of the theme.
This picture focuses on the painting behind the dresser and the area to the side.
This portion of the mural demonstrates that my husband's love for Dr Seuss could not go unrecognized.
Baby Nursery Wall Mural Paintings
And I couldn't wait to read Mercer Mayer critter books.
With our combined vision, my husband's talent and hard work came this magical room and every single time that I walk inside, I feel as if I have stepped right into the storybook.
I hope that other visitors to
Unique Baby Gear Ideas
that admire these books will see something in our decorating project to inspire them.