Western Theme Baby Nursery Decorating Ideas
When looking for inspiration and decorating ideas for old western theme rooms, I would suggest that you begin your search on the classic western movie channel. What an enjoyable way to entertain the children for a time while exploring the world of cowboys and cowgirls that you want to recreate in your baby's nursery or older children's bedrooms. As with most decorating projects, I would suggest that you start with the walls and work your way out.



Visitors Who Like This Page Also Enjoyed these Pages:

Cowboy Baby Bedding Collections

Cowboy Western Baby Decor

Western Baby Cowboy Pictures



You can quickly adapt the look of the cowboy's bunkhouse or the main ranch house for use in your home even if you have a small budget with the right kind of walls.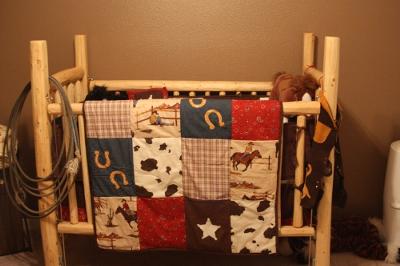 SEE MORE HERE
You don't have to spend your days wearing cowboy shirts decorated with fringe and silver stars and stud to enjoy western decor. Nor will you have to blow all your cash! We have some really cool western cowboy decorating ideas and tips for western theme walls for your baby's nursery or any other rustic cowboy themed room.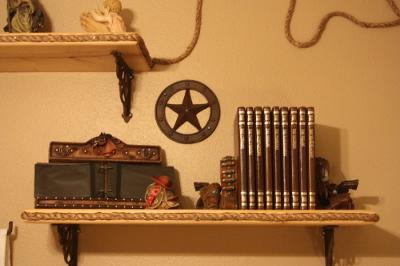 See more ideas for decorating a rustic western baby nursery theme HERE.
The basics of western themed bedroom wall decorations for the nursery or any other room in your home where you want a western feel are very simple. We are going to follow the same blueprint that professional decorator's use for a successful room for cowpokes. It's easy to set the stage with a rustic background so we will begin decorating our western theme room from the walls out.


If you will be doing a complete makeover or if your western decorating project is a part of new construction, you might want to consider some rough, wooden paneling. If the selection of distressed paneling in the building stores doesn't fit with your ideas western theme, hit the trail and locate some weathered barn boards that you can use. If the price of using wood on the walls of your room seems expensive, compare the prices of smooth sheetrock versus using real wood as a wall covering and you may find that the price of wood seems relatively inexpensive. The reason for this is that it takes so much more time to finish sheetrock than it does to cut and nail wood panels to the studs.

Here is an idea on how to get a unique look using small scraps of barn board left over from paneling the walls. Using the medallions from vintage quilts as inspiration, cut the pieces of wood in shapes like those used to piece a quilt to create a focal point in some area of your wild, wild west theme. Look at some quilt patterns with a western theme. There are many quilts with small pieced star designs patterns on each of the quilt blocks or some have large medallions in the center of the quilt top. Imagine how cool a large star in this style would look as a focal point on your walls in your western decor. It would be so simple to enlarge the design and use it as a template for wall decoration over the head of the baby's crib or even over your own bed.
If you aren't covering the western theme walls with wood, you can use decorative painting techniques for the nursery or bedroom walls. Draw off the pattern on the walls and paint each piece of the star in the colors of a desert sunset or any colors that work with your upholstery or bedding fabrics! Here's wishing Happy Trails to you on your way to perfect walls for your cowboy or old western theme room!
Browse the rest of our western baby nursery theme ideas by reading our western theme baby nursery decorating articles and please make plans to visit us again soon to find more western baby wall decorations, western baby nursery themes and gear ideas and to find more tips on how to create a western style nursery for your baby cowgirl or boy.