Watermelon Pink, Black and Gray Baby Girl Nursery Decorating Ideas
by Jan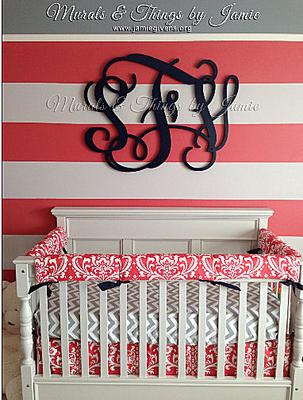 Watermelon Pink, Black and Gray Baby Girl Nursery w Pink and White Wall Stripes and a Large Wooden Wall Monogram by Jamie Givens
The focal point of the watermelon pink, black and gray baby girl nursery design is the well-made, wooden monogram on the wall behind the crib by our talented friend, Jamie Givens. This wall hanging in combination with the striped painting technique is the visual centerpiece of the space.



The wooden letters in black provide a bold contrast to the pink and white stripes painted on the nursery walls.



The wall is the standout of the room's design but you will want to see the rest of the decorative elements included in this project.
Go Here to See More
monograms and wooden letters that can be used to personalize and decorate the walls of your baby boy or girl's room.
The fitted crib sheet with gray and white chevron stripes contrasts not only with the
damask baby bedding
set but with the painted stripes on the wall. The zig zags prevent the design from being "too much" or monotonous in the least.
The font of the round monogram that you see in the picture above is so elegant.
The black color that was used to paint the letters really stands out with the pink and white stripes in the background.
This type of wall decoration can be painted and re-painted over and over again and will last indefinitely. The items that Jamie Givens of jamiegivens.org makes are both beautiful and long-lasting.
These
girl nursery pictures
provide a charming example of how to successfully decorate a room using a variety of patterns as well as complementary colors.
Many of the mommies-to-be that I create design boards for feel that a
gray nursery
for a baby girl is too drab, that a pink nursery can be too "froo froo" for their taste and a
pink and black nursery
a little too dramatic. I can't wait to share these tips with them; they are going to flip!
The DIY'ers could save money by making their own custom crib sheet while hubby does his best to
paint stripes on the nursery wall
(under mom's watchful eye, of course). After the crib set is complete, the walls painted to perfection and the baby's name chosen it will then be time to order the monogram from a special friend of
Unique Baby Gear Ideas
, Jamie Givens.