Uncommonly Cute Newborn Baby Photos by Bret Cole
by Jan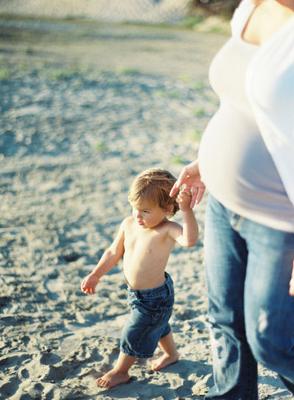 Beach maternity photo shoot. The picture of the pregnant mom with her little boy walking on the sand is so perfect that I can almost taste the salty air and feel the sunshine on my skin.
When I happened upon a collection of uncommonly cute baby photos by Bret Cole, (borrowing from the Keebler Elves here) I knew that I just had to do a feature article on her business, Bret Cole Photography. I would like to tell you a little bit about her and (YIPPEE) let all of Unique Baby Gear Ideas' mommies-to-be take a peek at her work.

Every excellent new baby and maternity portrait photographer is aware that there are times when the timeless feel of a black and white photo can be very appealing and Bret obviously has an eye for when this technique will be a good fit.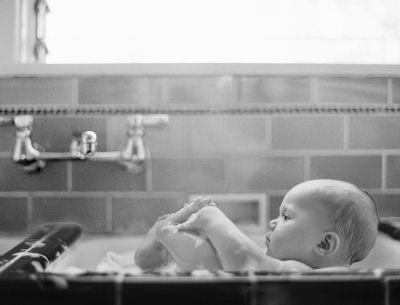 This newborn baby is delighted with the discovery of those sweet toes while enjoying a bubblebath. The backdrop is a modern setting that has been artfully designed in such a fashion that the picture seems, at first glance, to have been snapped decades ago.
Using vintage baby clothes to decorate the nursery is an excellent opportunity for a proud mom and dad to display family heirlooms.
Precious baby shoes that belonged to an ancestor, perhaps a grandmother or grandfather, require protection from dust and direct sunlight.
Even baby shoes that have been bronzed have to be carefully maintained in order to preserve them for future generations. If parents are fortunate enough to have a collection of clothing; an arrangement in a shadowbox is a lovely way to include them in the room's decor.
However, a glass dome can cover and protect a single pair of shoes and provide an excellent photo prop for a photographer contracted to snap a collection of
baby nursery pictures
.
After the baby's first room has been photographed; Bret may take a few shots of the baby outdoors.
Natural light makes the colors in this fall photo shoot sparkle.
I wish that I could post every one of the
cute newborn baby pictures
in
Bret Cole Photography
's portfolio but that would be impossible. If this feature has left you wanting to see more of Bret's work; visit her website. If you are in North California and interested in having maternity or newborn baby portraits taken; give her a call at (805) 610-1440.