Precious Sock Monkey Baby Bedding Sets for Your Baby's Nursery Room
Modern sock monkey baby bedding sets come in a variety of colors making it easier than ever to decorate a nursery room for a baby boy. There are even items available in pink if you're shopping for baby girl nursery decor. When we were kids, sock monkeys came in limited colors and some parents prefer the retro look but it's always nice to have choices when decorating a sock monkey baby nursery; isn't that right?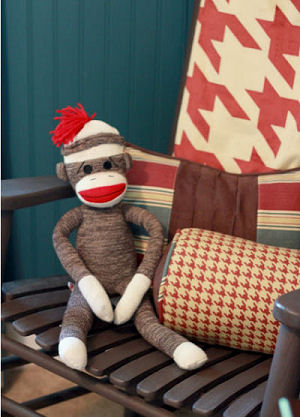 See MORE Here
And if you can't find a nursery bedding collection in colors you like, simply have a set custom made. Moda has some adorable pink
sock monkey fabric
as well as patterns with baby blue backgrounds that are sure to please.
There are prints available in baby soft flannel, fleece and 100% cotton ready for use in sewing quilts, nursery curtains or receiving blankets.
Sock monkey baby bedding in bright brick red, gray and the natural chocolate brown of the monkey's fur lays the groundwork for a nursery color scheme that is as gender neutral as it is lively and fun.




A nursery bedding set made from fabric with an antique white or ivory background has a distinct vintage style that is more in keeping with the authentic colors of the original, homemade sock monkey toys and has the advantage of being completely unisex.
A brown and pink sock monkey crib set made with soft, minky fabric is perfect for a baby girl nursery.
A patchwork crib quilt designed with a combination of fabric might include dark, chocolate brown and pink sock monkey fabric as well as fabric with polka dots and fabric with a damask pattern to add a touch of femininity and elegance to the whimsy.
Parents decorating a baby boy nursery may prefer a more gender specific collection with touches of baby blue in the mix.



Brown and blue baby bedding has been a favorite with parents for a baby boy's nursery for awhile. Monkey themes have been very popular, too! It should come as no surprise that a combination of the two is a huge hit.


Something that puzzles me is that none of the sets seems to include a crib mobile!


Sock Monkey Crib Mobile
I never expected to see flying monkeys outside of the Wizard of Oz but here we go!



Aviator themed nursery decorations transform a crib set made from striped fabric in traditional sock monkey colors into something very unique and unexpected.


And don't forget to buy enough matching fabric to make the nursery curtains.


Consider curtain panels using sock monkey print fabric for the body of the window treatments and a solid color to make the tab tops and tie backs.
Please make plans to visit again soon to see the latest sock monkey baby bedding sets and ideas for decorating a nursery in this baby nursery theme.