Rustic Baby Girl Nursery Ideas and Theme Recommendations
We have some rustic baby girl nursery ideas and theme recommendations that are not pink for parents that simply cannot imagine spending several years of their lives in a room filled with frilly pastels.  Many of the examples feature the option of decorating in as much or as little pink as your heart desires. 
If spending time in the great outdoors backpacking and enjoying nature with your daughter from the moment the pediatrician gives your family the go ahead to get going appeals to you, chances are that there is a design on this page that you will enjoy and want to include in your inspirational file folder.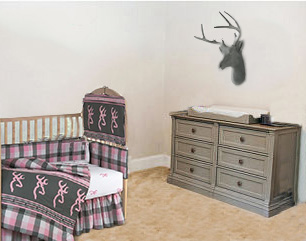 Hunters can appreciate the introduction of plaid fabrics as well as popular color combinations like pink and grey that include a
rustic nursery theme
featuring deer wall décor and fabrics.
I am interested in a modern or contemporary rustic nursery. Are rustic and old-fashioned synonymous?
It is true that vintage items pair well with this cozy, often country style but it is possible to put a modern spin on things as you will see
here
.
These colors soften and brighten the rough log interior of a
log cabin nursery design
making it more feminine without going gaga for pink.
Barn wood on the walls pairs perfectly with a cowgirl nursery theme.
Cow print, barn wood and a cowhide rug on the floor give this space a distinctive farmhouse look that is as durable as it is attractive.
This space features not one but a pair of homemade cribs that were made from reclaimed wood right off the farm.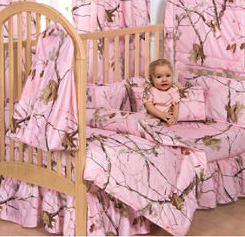 Camo baby nursery themes
once considered gender specific, are one of our most popular, rustic baby girl nursery ideas for those who are not looking for designs that are not pink.
Rustic Nursery Furniture
A log crib or one made of reclaimed, barn wood with a distressed finish is an excellent choice regardless of the baby bedding set that you choose. The weathered shading is neutral and will pair well with many fabrics.
Rustic Baby Crib Plans
These cribs can be made very inexpensively from trees that have fallen in the forest or from driftwood that has washed up on the beach. To use this readily available wood to make your own furnishings rather than buying manufactured items is a smart and many say spiritually enriching route to take. One key concern with any and all rustic baby girl nursery ideas which applies to all genders is that the the furniture and cribs are sturdily and safely made and that the materials do not present any danger to your child.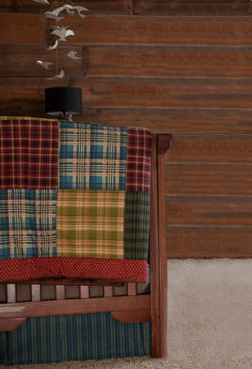 A patchwork crib quilt made using blocks of soft, flannel fabric salvaged from Dad's hunting shirts is a wonderful idea for bedding as well as nursery decor.
The colors of the quilt's fabric can be coordinated with the unfinished texture of the room's furniture. The quilt can also be used as a wall hanging or added to the crib set for a more traditional purpose, to keep a child warm when winter's winds are circling the cabin.
I hope that those of you that are planning a nursery for their log cabin or hunting lodge have found something useful here on
Unique Baby Gear Ideas
and that when your DIY decorating project is complete you will consider uploading pictures to help and inspire others.