Custom Flower Stickers and Wall Decals for a Baby's Nursery and Kids' Rooms
It's very EASY to decorate the walls of your baby's nursery with flower stickers. They are very affordable, come in all shapes and sizes, colors and perhaps the best thing about custom flower wall stickers is that they require no special skills to apply!

Apartment dwellers can enjoy these stylish wall decorations without having to worry that they may lose their security deposit because their decorating efforts caused damage to the paint. Modern vinyl wall stickers require no special surface preparation and don't leave marks when you remove them.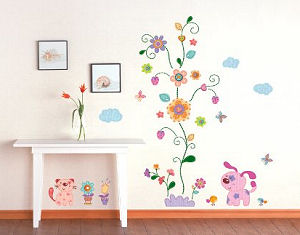 Go Here to See More
WHAT KIND OF FLOWER STICKERS SHOULD I BUY?
This is a frequently asked question regarding flower stickers and other floral wall decorations that many DIY decorators ask. For example, one client that I knew was passionate about her prize winning roses asked whether it would be "too much" to decorate her bathroom walls with pink rose wall stickers.
It would be "too much" if there were murals featuring rose decals on every room of the home, but a tasteful arrangement on a wall over the tub would be delightful.
The Best Location for Flower Wall Decals
There are many places to make a sticker display as well as a complete wall mural including:
over or around doors of the kids' room or the baby's nursery
in a border at ceiling, floor or chair rail height
on the drawers of the baby's dresser or changing table
It is a good idea to keep the stickers out of a baby's reach to avoid the danger of choking.

VARIETIES
Flower stickers come in all varieties from gerbera daisies, tropical Hawaiian hibiscus flowers and large rose stickers to Agapanthus!
COLORS
What if I'm not really crazy about red roses or pink hibiscus flowers or if I want a floral wall mural but want (or need) the flowers in colors not seen in their natural form? Never fear! There are plenty of companies who specialize in personalized, custom wall stickers who can fill your order for wall decals in any color, shape or size you specify. If you need a special color to match the fabrics in a room, ask if you can send them a fabric swatch in order to get the best color match possible.
Flower wall stickers and decals will make your home feel like springtime year round!
Please visit us again soon to see the latest in flower wall decals and baby nursery ideas with examples to demonstrate how to use these handy decorations in the kids' bedroom, the master bedroom or your formal dining room.