PUPPY NURSERY THEME PICTURES!
by Angie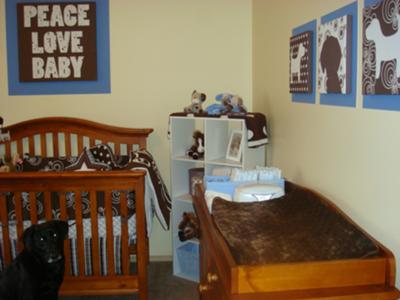 Our Puppy Dog theme nursery theme decorated for our baby boy that was inspired by our black Labrador Retriever, Gracie.
Gracie, our Labrador retriever, was the inspiration for our baby's puppy nursery theme. I kicked off the process of decorating our "Doggy Swirl" puppy theme room by painting the walls a shade of light yellow that I thought looked very nice with the color of the wood on the baby's crib and the baby's changing table..


Go Here to See More
The baby bedding that I picked out was one of nicest blue and brown crib sets of all the ones that I looked at. To me, it had all the best fabric print designs all in one neat package. There are polka dots and stripes and a really cool paisley print on the crib bumper that fit perfectly with the "
PEACE, LOVE BABY
" art that we used to decorate the walls directly over the baby's bed.
Once that area was decorated to our liking, then all the other decorations for our
baby's puppy nursery theme
easily evolved from there. Our search for decorative accessories was so much fun and it seemed that everywhere we went there were so many pretty items in blue, yellow and brown.
When I saw the funky Labrador prints with the swirling graphics and polka dots, I knew I had to have them to frame for the nursery wall. In keeping with the rest of our
blue and brown nursery bedding and decor
I decided they needed to be surrounded by blue so that the pics would really stand out and do their part to designate the room as a "doggy nursery". So, I went to a frame shop and had blue mats cut that matched the border of the peace poster over the crib to place behind the photos. The difference this easy technique was amazing.
Our black Labrador retriever had to be in the picture after all she is what inspired our puppy nursery theme.
Unique Baby Gear Ideas
has lots of pictures of DIY puppy dog theme nursery décor for the mom and dad who enjoy DIY decorating projects!