Precious Stockings for Baby's First Christmas
by Ally
The holidays are just around the corner and there is so much to do but the time spent making precious stockings for baby's first Christmas will be well worth your while! There are gifts to make and to buy, decorations to sort and those of us who welcomed a new addition to the family this year are looking for ways to commemorate baby's first Christmas.


Our family has one special stocking (made so long ago by my mother's grandmother) that we hang for each new baby's 1st holiday.
For those of you just starting your own family holiday traditions I have gathered a few precious selections that will look amazing on the mantelpiece year after year!
How about this one with an applique pattern of the Jolly Old Elf scurrying to deliver his toys to all the good girls and boys?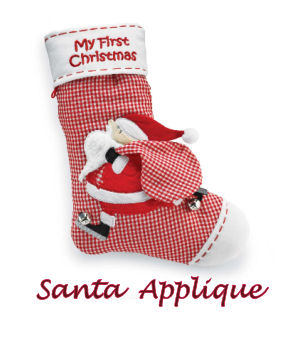 Go here to see more
Burlap is an excellent gender neutral choice as you can see from this "baby makes three" grouping.
burlap, lace, satin ribbon and other supplies to make your own or to see what is available to buy.
Have it personalized with "Baby's 1st Christmas" or her name. There are some with frames attached where her picture can be displayed, as well. If you have no time or simply don't know how to make a Christmas for a baby,
here are some excellent examples
that will inspire you to create your own design.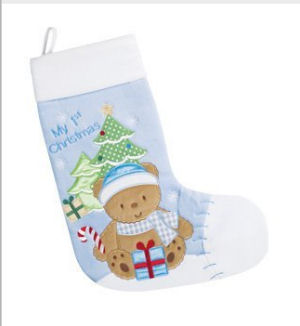 Got a baby boy? A teddy bear on a baby blue and white background will do!
If you would like to try your hand at making your own; personalized stocking, there are lots of free patterns and tutorials online with easy instructions that will guide you through the process of making your own.
I am sewing one together this weekend to give as a gift at a friend's
Christmas Baby Shower
. I'm going to use it as a gift bag to hold some smaller items
New moms with little (or no) time to shop for fabric and notions can get creative with a Sugarplum Fairy stocking kit.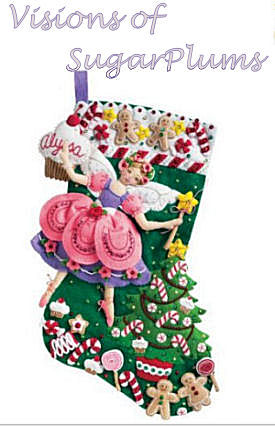 Talk about visions of sugarplums dancing in your head! What are you waiting for; choose your personalized stockings for baby's first Christmas and start decorating!