PonyUP Kentucky! Purse Giveaway
by Jan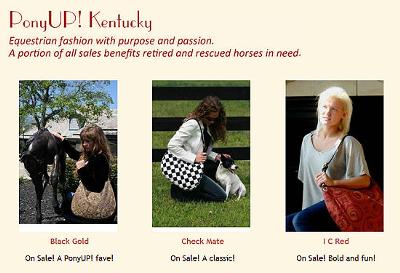 PonyUP Kentucky! has amazing purses and donates a portion of their profits to help retired and rescued horses.
Before I actually saw the purse that I was sent to review for the PonyUP! Kentucky Purse Giveaway I never dreamed that their purses were made as well if not better than some of the other well known designer purses that I am obsessed with. I want to tell all of you who share my purse obsession that these purses will give any high end handbag a (pardon the horse reference here) run for its money!
In case the name, PonyUP! Kentucky, is throwing you these purses are
NOT
just for horse loving girls. They are stunning and yes, there are equestrian elements like the strap that is made from a horse's halter strap with brass fittings. But I see nothing that pigeonholed it as just a "cowgirl" or "western" style (not that there is a thing wrong with that) fashion accessory.
The purse that I chose for my review of PonyUP! Kentucky purses is called Spanish Moss. Being a southern girl in need of a purse with a black and taupe pattern for fall, the title and the design of the bag fit me to a fair thee well. I carried it to a university meeting and got LOTS of compliments on it!
The Leather Shoulder Strap
And while we're on the subject of the strap, it's made from the best leather I've seen on a handbag in a while! They are made from the headstall of a real leather horse halter and are fitted with the traditional brass buckles and brass swivel snaps on each side.
And just like a halter, you can adjust the length to suit you by moving the buckles along the five hole-punches on each end. The leather shoulder strap is 1 inch wide and can be shortened to about 22 inches and lengthened in one-inch increments to approximately 30 inches. I really can't begin to tell you how impressed I am with this feature!
A Limited Edition Handbag
I like that there is a limited number of each style made so that I don't have to worry that I will pass myself on the street over and over. Forgive me, but it's fun to feel that you're one of a few lucky girls that own that special purse that everyone's looking for.
Brass Nameplates
I love that you can have your purse personalized with your name, the name of your favorite horse or the name of your ranch so long as you keep the engraving at 20 characters, including letters and spaces. The brass nameplates are 1/2 inch wide by 3 inches long and match the buckles and swivels. For the record, the brass plate is very high quality. The purse I got for the PonyUP! Kentucky Purse Giveaway has "PonyUP! Kentucky" engraved on it and it looks amazing. The letters are in a nice, bold script that I can tell won't look cheap or fade with wear.
FEEL GREAT ABOUT BUYING FROM PONYUP! KENTUCKY
PonyUP! Kentucky has got a catalog chock full of classic, fun and funky purses that you WILL want to own and that's super but bless them, they also have done their part to make purse divas (such as myself) feel good about buying a new purse whenever I want one! You see, they donate a portion of all proceeds for the support of retired and rescued horses in need AND every single bag sold from Pony Up! Kentucky is made right here in the USA. All of their purses ship for free and your satisfaction is 100% guaranteed.
The Bottom Line
PonyUP! Kentucky is THE place to shop for your next handbag if you:
1.
Are crazy about gorgeous purses
2.
Are looking for a purse made with high quality leather
3.
Are interested in helping horses that have been retired or rescued
WIN A PURSE FROM PONYUP! KENTUCKY!
I'm so pleased that Pony Up! Kentucky is offering one lucky visitor of
Unique Baby Nursery Ideas
a chance to win one of their beautiful handbags in the style of their choice (engraving NOT included).
MANDATORY ENTRY
To enter the PonyUP Kentucky! Purse Giveaway, just visit the PonyUp! Kentucky website and return to leave a comment indicating which bag you would want to win if you are the winner
AND
LIKE
Unique Baby Nursery Decorating Ideas on Facebook and leave a post on my wall with your username in your comment.
You
MUST
complete these actions for your entries to count in the contest.
Here are some actions you can take to pick up bonus entries.
1. Visit our baby shower ideas channel on Youtube and either subscribe to our channel or leave a comment on one of the videos and return to tell us for
10 bonus entries
2. Follow msbaby on Twitter and tweet: Check out the PonyUP Kentucky! Purse Giveaway contest hosted by @msbaby – Enter to win here: https://www.unique-baby-gear-ideas.com/free-baby-stuff.html shorten url and leave a comment. You can tweet the PonyUP Kentucky! Purse Giveaway DAILY and leave a comment each time.
3. Enter other contests in addition to the PonyUP Kentucky! Purse Giveaway contest for a chance to win
FREE Baby Stuff
like free diapers, baby carriers or gifts for kids and moms! (1 entry for each contest you enter)
4.
5 ENTRIES
– Blog about the PonyUP Kentucky! Purse Giveaway contest linking to this page and provide a link to your post. (Post FIVE separate comments for this!)
5.
10 ENTRIES
Take a quick peek at the photos in our nursery picture gallery that have been entered in our BABY NURSERY PICTURES CONTEST and vote for your favorite in the comments section then tell me where I can find your vote for 10 entries and be sure to tell the moms which of their baby nursery themes and ideas are your favorites.
6. Add the official Unique Baby Nursery Ideas button on your sidebar or resource page (if it's already there, let me know (don't put it on a page where nobody will see it) and post the link to your blog in your comment (2 separate entries) using the following code:
https://www.unique-baby-gear-ideas.com/images/ubgibutton.jpg
7. Post a link to my baby blog (using my URL), with a link back to pick up
(10 bonus entries)
and keep up with our latest sweepstakes and contests.
8. Post a link to Baby Shower Cakes Ideas blog on your sidebar or your resource page (using the provided URL), with a link back to me to get
(10 more entries)
9. Become a GFC follower of Baby Shower Cake Decorating Ideas and post your user name for verification purposes. (5 bonus entries)
The PonyUP Kentucky! Purse Giveaway contest has ended.
The winner of the PonyUP Kentucky! Purse Giveaway contest will be contacted via email and will have 48 hours to confirm before a new winner is chosen.
Thanks to PonyUP! Kentucky for their sponsorship and for the gorgeous purse that they sent me to review!
There is No Purchase Necessary to enter the PonyUP Kentucky! contest or any of the other freebies I have posted and I received no compensation for my review or opinions.