Treasure Maps and Pirate Pictures for Kids
We would like to suggest some pirate nursery artwork including pirate pictures and old treasure maps to use as decorations in your kids' rooms. There are drawings and etchings in black and white pen and ink or pencil designed to give the impression that they were drawn long before photographs became a reality.


Then we have graphics in bright colors that are a product of a modern artist's imagination. There is free clip art that we can download for our personal use in website design applications or craft projects where pirate images will add to our theme. Or perhaps you are searching for an old pirate map of Treasure Island to use as a wall decoration.


Whatever the reason that steered you toward our page that is devoted to pirate pictures, posters and art, we are glad to be of assistance in locating the best images and graphics in whatever form or style that could ever want or need.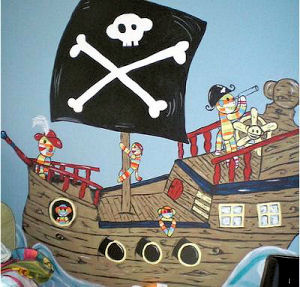 Monkey Pirate Ship Nursery Wall Mural Painting
Parents looking for a large, DIY art project might consider painting a pirate ship wall mural in their baby's nursery.


This picture of a pirate (could it be a picture of Blackbeard?) is a free printable that can be printed and framed.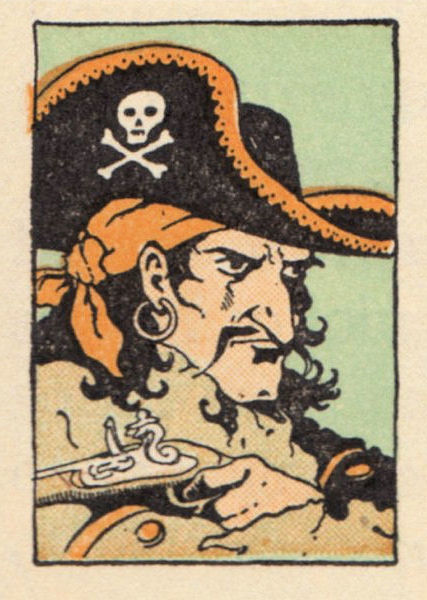 Here is a free printable picture of a pirate ship flying the Jolly Roger flag that can be used alone or in combination with the picture above as pirate nursery artwork. The choice to print a single picture or the set depends on the amount of wall space that you have to will.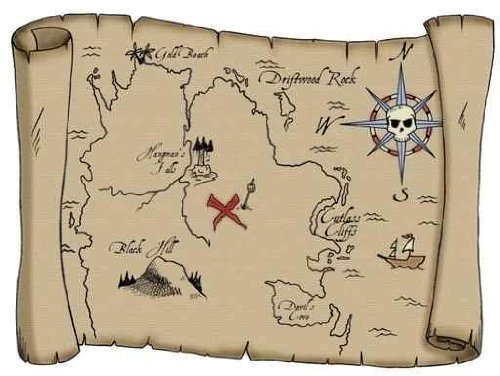 Go here to
see more treasure maps and art for your pirate themed project.
There are few, if any, pictures of the most famous, real-life pirates that sailed the seven seas that can be authenticated. The most famous pirates, Captain Kidd and Blackbeard, have been the inspiration for many paintings but the images are most likely the product of artists' imaginations for many reasons.
However, if you are looking for pirate art to match your kids' pirate bedding set in a pirate theme bedroom or nursery, the chances are slim that you are searching for dusty, antique oil paintings. Decorations for baby pirate nurseries should be fun and only a hint at the real truth and actual history of pirates. There are lots of cute pirate prints that you can frame and use as part of your wall decorations along with pirate flags and faux vintage pirate treasure maps that will delight your children while falling right in line with your chosen color scheme and protect the little ones from the facts about famous pirates from long ago.
Pirate Treasure Maps
There is a site online that specializes in old pirate treasure maps that are lovely in a man's den, game room or a library. But for a child's bedroom you would do better making your own imitation map of Treasure Island from a brown paper bag that's been aged by singeing the edges and a magic marker. Vintage posters with maps and pirate pictures from Treasure Island, Peter Pan and even Pirates of the Caribbean with Jack Sparrow (Johnny Depp) would be so much more intriguing and entertaining for children than navigational maps.
Free Pirate Clip Art
Most sites that offer clip art will allow you to download the pirate pictures for your personal use free of charge. It is a good idea to read the FAQs or license agreements on the website to be certain that you are not violating the terms of use.


This pirate ship clip art features a drawing of a tall sailing ship flying the infamous Jolly Roger flag.
This clipart might be used to create a stencil to create a
pirate wallpaper border
.
This clipart image presents a side view of a pirate ship flying the Jolly Roger flag.
You can use pirate pictures and clip art to decorate your kid's bedrooms, make your own pirated theme party invitations that will bring your friends sailing to your home to admire your pirate wall arrangements and decor.
DIY Pirate Wall Decorations
When making your selection of pirate art, you should take the color and style of other pirate decorative accessories that will be located in the same area into consideration. For instance, the artwork should compliment the pirate bedding set as well as the color scheme of the space.
Neutral colors found in pirate hats and a faux pirate treasure map will be much easier to manage than large pirate murals or pirate wallpaper patterns.
Return to Unique Baby Gear Ideas to see the latest tips for how to use pirate art to enhance your home's decor.