Peachy Pink White and Grey Baby Nursery Decorating Ideas With DIY Crafts and Decor for a Beautiful Girl

Today Courtney is sharing creative peachy pink white and grey baby nursery decorating ideas that she used in her baby girl's room design.  The nursery tour pictures feature so many tricks and methods that  only an accomplished decorator would dream of and if you pay close attention; you may find a spot in your project where they can be used as well. 

For instance, luck was surely with me while surfing in search of unique ways to incorporate stars into a baby girl's nursery. The stars in this space may not be of the traditional sort but they really "shine" nonetheless. On her blog, Courtney shares a way to create this look without spending a ton of cash for rolls of expensive wallpaper.
In addition to the ideas for bringing faux starlight into your home's decor, she also has tips for making a small room visually spacious, airy and bright as well as several DIY painting and crafts projects that can be adapted for use with any color scheme or for any gender. One, in particular, is so simple.. pure decorative genius! With this sewing project, no tutorial is required. Even those with the most basic of skills will learn how to transform plain curtain panels purchased at a big box store into lovely custom made window treatments; keep reading for details.
The geometric pattern of the area rug blends nicely with the classic style of the Jenny Lind crib and the
painted antique dresser
that is being used as the baby's changing table.
The arrangement of floating shelves (secondhand!) hold a display of frames currently filled with peach and gold papers until newborn and family photos take their place.
All photos courtesy of
12th and White
. Courtney instantly added many visual square feet to her
baby girl's nursery
with the decision to place the chair rail 3/4 of the way up the wall.
A delicate peach tutu, a gift from this special baby girl's grandmother, is on display with the outfit that will be her coming home dress and an antique christening gown.
Mom made the floral baby mobile following the tutorial from Jones Design Company. She advises to buy extra silk flowers as with so many DIY craft projects; it took more flowers than she imagined The results are magnificent and worth every blossom.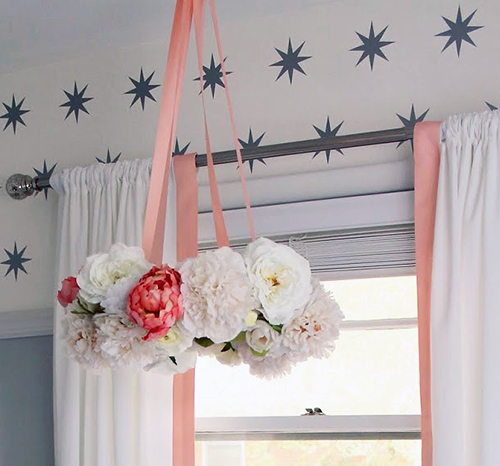 Buy the mobile already made or find a tutorial
HERE
.
The antique dresser, painted by Grandmother, is a versatile piece of furniture that will transition from changing table to bedroom dresser when the days of changing diapers are long past.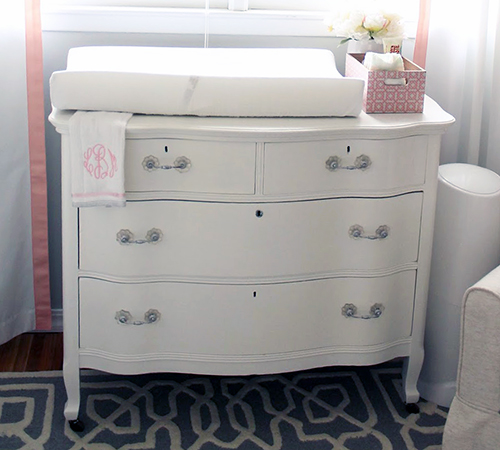 The
nursery curtains
are Target Farrah panels customized with peach grosgrain ribbon.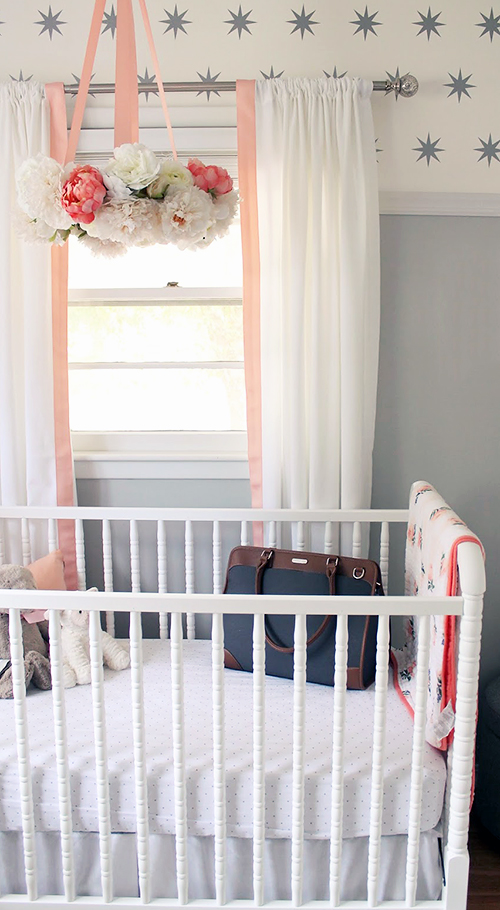 Now, for the arrival of the baby girl who will be surrounded by the results of the work of so many loving hands.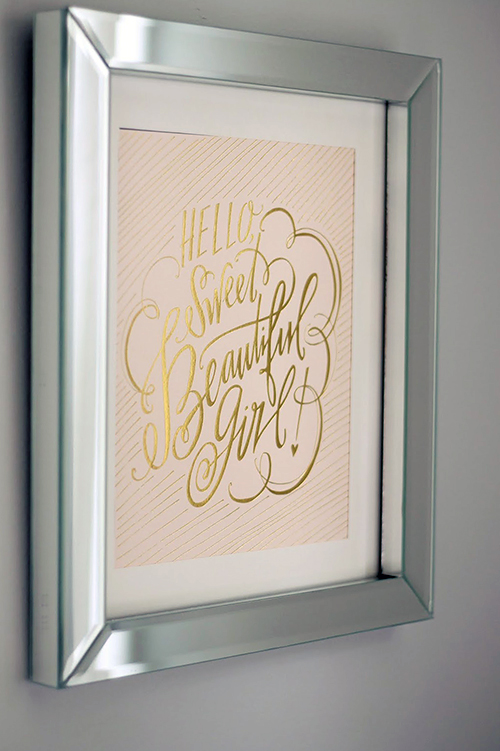 Similar print available from HeidiLynnCreations.
Thanks to 12th and White for allowing
Unique Baby Gear Ideas
to take our visitors on this amazing nursery room tour. I'm sure everyone will find something in the collection of peachy pink white and grey baby nursery decorating ideas to use in their own DIY project. Please stop by and upload pictures of your baby's nursery tour using the form on our feature page.