Pink Princess Dream Nursery
by Michelle
(Jacksonville, FL United States)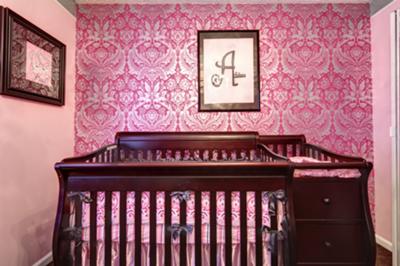 Are you dreaming of an elegant pink, damask nursery wall for your baby girl's princess nursery?
After an extended period of research and planning, our baby girl's pink princess dream nursery is completed! The results of our combined efforts are (in my opinion) both beautiful and creative.


I will take you through the process step-by-step as I remember it.



First, we had to decide on a nursery color scheme which was ultimately pink, silver, white, and a shade of brown I call chocolate espresso.
The next step was to search the internet for a nice nursery wallpaper design to create a focal wall. We discovered Graham & Brown wallpaper and ordered samples to see if the wallpaper was what we wanted. We decided on a pink and silver Graham & Brown wallpaper (17154 Elizabeth @ $55.00 a roll) and we purchased two rolls.
After we received the rolls of wallpaper we searched for a matching paint color at Lowe's and found a beautiful color "Fairy Tale Pink". My husband, Alister, prepped the walls, hung the wallpaper on the accent wall and did all of the painting. After completing this step in the decorating process, he sealed a thin strip with painter's tape to create a white stripe and then created a border with grey top gloss paint purchased at Lowe's.
Alister wanted to bling out our baby girl's nursery and decided to try a painting technique that required him to toss glitter onto the wet paint and then seal the glitter with a top gloss paint as the finishing touch. He repeated this process with the wooden trim around the window, closet and the nursery door.
He painted the inside of the nursery closet in a shade of pink that complemented the wall paint, "Princess Pink" which was also purchased at Lowe's.
After the walls were painted and papered to perfection it was time to make a decision on flooring. We had to decide on whether carpet or hardwood floors would be the best choice. We ultimately chose to carpet the floors to give our baby girl a soft place to crawl and so that her tumbles would be padded when she started to learn to walk.
We selected a chocolate brown carpet as a contrast to the decor in our
princess dream nursery
that wouldn't show every little stain and hired a local company to install the carpet called Gator Carpet. The cost to remove the old carpet and install new carpet was so cheap, only $200. WOW! What a great price!
After our fresh, new floor covering was installed, my husband removed old closet doors and installed a beautiful nursery closet organizer that we purchased at Lowe's. The total cost for the sytem was $329.
Next he installed new glass doors that we found at Lowe's that were only $125 each.
With the painting, flooring and closet makeover behind us; the time had come to furnish our pretty
pink nursery
. We bought the baby's crib and dresser at Babies R Us. The brand name of the nursery furniture is Sorelle. The double dresser combo was $499.99 and the 4 in one crib was $399. We found our nursery glider at target.com. It's the gray Rockabye glider called the velvet Lara Glider chair $449.99.
We purchased the Ashlyn baby bedding set $399 online through shopsugarbabies.
We purchased the mirror online as well through mirrorlady.com and ordered a small Georgia rectangle venetian mirror for $348.
Next we purchased a chandelier because all princesses need to have a beautiful chandelier. We found the perfect princess nursery chandelier, a white and pink 5 arm chandelier, for $318 at gigglebrush.design.
We purchased deorations for the wall and the lamp at a local hobby lobby. Finally, my husband designed our daughter's name poster with products at Michael's and the framing was purchased there as well.
We are so excited about becoming proud parents of a little baby girl. We wanted a room that could grow with our daughter and be a place that she could enjoy.
I hope that
Unique Baby Gear Ideas
' visitors like our princess nursery and will find some tips they can use in their project.