Best Personalized Layette Ideas and Checklist
A personalized layette is the ultimate newborn gift. New mothers appreciate each and every diaper shirt and bootie, but a layette for baby that has been personalized with initials or a special theme will transform a lovely gift into perhaps the best baby shower gift ever!


A baby layette that has been monogrammed is more appreciated as it's obvious how much thought and care you put into making sure that you had a special gift planned long before the day of the shower. For a very cheap price a layette for a baby boy or girl can be embroidered with a monogram or motif that ties into the decor of the nursery if the baby's name hasn't been announced.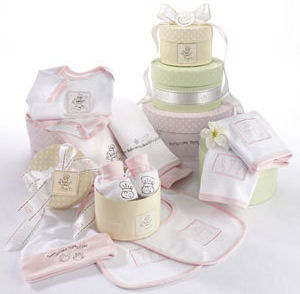 WHY IS A PERSONALIZED LAYETTE so Special?
A layette for a baby boy or girl that has been personalized will not be sold at a yard sale or donated to charity; a simple monogram, embroidery or the fact that the tiny clothes were crocheted by loving hands makes them a precious keepsake.
WHAT Should Be Included in a Baby Layette?
A baby layette once meant a set or collection of baby necessities that new mothers should have on hand when anticipating the arrival of a newborn. If you compare vintage layette requirements compared to current layette checklists, you may be surprised to see that the number of items on current lists is much less than on lists from decades ago. The reason for this is that in the days before washers and dryers, laundry day was once a week and having more articles of clothing on hand was essential.
Today's mother may only need two or three outfits because it's so easy to do a load of laundry every day. This is one of the reasons personalized layettes are so popular. Mothers want the clothing and childcare products they use to be special. Personalizing these items transforms everyday items into keepsakes.
IDEAS FOR A PERSONALIZED LAYETTE GIFT BASKET
Items that may be included in addition to monogrammed baby clothes would be:
Baby bath items
Baby feeding utensils
Toiletry and grooming accessories
Crib sheets and receiving blankets
PERSONALIZED LAYETTE SETS make UNIQUE BABY GIFTS
Some infant clothes are easier to personalize than others. Pick a few items from each list to have monogrammed or personalized in another way. Here are some ideas:
Personalized baby onesies – Include one or two custom onesies with sayings, initials or names embroidered on the front
Baby caps or hats, booties and socks with one single initial or motif
Personalized baby bibs
Diaper covers
Diaper shirts
Sleeper
BATH GIFT SETS

Monogrammed hooded bath towels
Face cloths
Baby shampoo and soap
GROOMING

Engravable, silver brush and comb set
Baby safe nail clippers
Toothbrush
BABY FEEDING ITEMS

An engraved, monogrammed silver baby cup
Spoon and fork set
Custom ceramic baby plate painted with baby's name and birth date.
The key to a personalized layette is to present a complete set that will cover everything necessary for a particular portion of baby's activities or daily care with items that have been customized to leave no doubt as to which special baby they are for.
Please visit us often to see the latest baby gift recommendations and Nursery Decorating Ideas.