Patriotic Baby Bedding and Nursery Ideas for Stars and Stripes in Red White and Blue
There's more to patriotic baby bedding than stars and stripes and red, white and blue fabrics. For older kids these traditional colors and motifs may be perfect to kick off a theme worthy of the 4th of July, but nursery bedding in a patriotic theme for a baby might benefit from a softer, more subtle style of décor with a healthy sprinkle of teddy bears and other characters that might interest an infant for fun.





Using the stars and stripes of the American Flag as inspiration for a patriotic gender neutral nursery theme is certainly doable as well as admirable. Depending on whether you want to showcase the red and white stripes in the flag's design or the blue and white star portion, you might have a set of custom baby bedding made with the comforter or crib quilt made from one fabric and the sheets made from the other with window treatments or curtains coordinated according to your preference. Of course, you can use fabrics with other designs rather than stars and stripes. A plaid fabric with a pattern in red, white and blue would be very attractive surrounded with patriotic art or military memorabilia.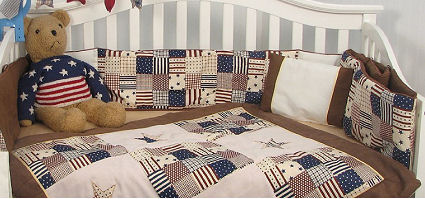 Go Here to See More
Many military moms and dads prefer to decorate their baby's room in red, white and blue with baby bedding featuring their beloved stars and stripes.
HONORING THE MILITARY
If mom or dad is serving in the armed forces perhaps you could pick up some patriotic nursery theme decorating ideas from their particular branch of service.


Many consider it to be very patriotic to decorate a baby's room in such a way that honors the fine men and women in the United States Army, Navy, Air Force or Marine Corps.
For this style of nursery decor you might consider a set of military camouflage baby bedding for your patriotic baby bedding that will reflect the fabric of a combat uniform. If you prefer a formal look, take your decorative cues from dress uniforms and experiment with a set of navy blue baby bedding with white and gold decorations.



RESPECT
No matter what color or style in patriotic baby bedding set you choose to decorate the nursery, this theme is about respect. Acquaint yourself with the rules for the proper display of our country's flag and take advantage of this opportunity to share your love and appreciation for our country with your children.
Please make plans to visit Unique Baby Gear Ideas again soon to find the latest in patriotic crib bedding,baby nursery ideas and tips for decorating your baby's room in red, white and blue.
SHARE IDEAS - PICTURES of Patriotic Nursery Decor
Do you have a great set of baby bedding or a picture of a nursery that you decorated? Share it!
NURSERY PICTURES, IDEAS and SUGGESTIONS from our FRIENDS
Click below to see contributions from other visitors to this page...

Red,White and Baby Blue Nursery

I'm excited to be sharing this sneak peek of our red, white and baby blue nursery. Our baby boy's nursery is not completely decorated, but we have made …