Parts for a Drop Side Little Folks Crib
by Jenet
(Thunder Bay, Ontario Canada)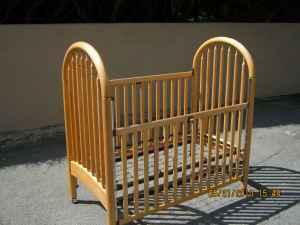 Natural Wood finish Simmons Little Folks Baby Crib with a Drop Side
I want to buy parts for our drop side Little Folks Crib so that I can get the crib put together. Does anyone know of a place to order replacements?


If I could find one a vendor, I might also be interested in a new mattress base for the crib.



If anyone has any information on replacement parts for a drop-side Little Folks Crib, please send it to me using the space below (also sent me your contact information to use if I find that I need to get in touch with you).
Go Here to See What's Available
Please post a list of the crib replacement parts that you have to offer using the comments form below.
Unique Baby Gear Ideas
encourages everyone that sees this want ad to share their resources for Little Folks crib replacement parts, information on drop side crib recalls and to consider writing reviews of their cribs to make expectant parents aware of any problems that are associated with Little Folks baby cribs.