Our Baby Girls Pink and Green Nursery Decor
by Laurie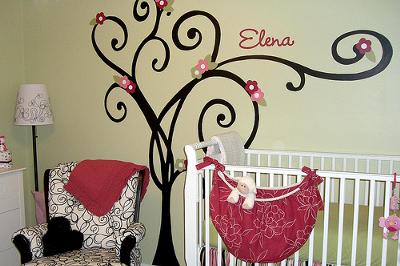 Our Baby Girl's Custom Pink and Green Nursery Decor in Stripes, Polka Dots and Swirling Black and White Fabrics
We brought our baby girls pink and green nursery decor very carefully and slowly and over time, bit by bit. I didn't actually have an overall theme, so to speak.


I just knew I wanted a design that could grow with her.



The design started to fall into place when I found the perfect glider. It is made with dark espresso wood and upholstered in black and white swirly fabric.
Go here to see more




HOW WE BEGAN
We found it at a baby furniture store we just happened to stop by while we were out of town. We weren't really seriously looking at the time because it was really early in my pregnancy, but my husband and I both saw it, sat in it, and fell in love. So it just stayed in the back of my mind as the months went on.

SHOPPING for FABRIC

After we learned that we were having a girl, we started looking for fabrics. My mother has an amazing talent for sewing so I knew I wanted her to make the baby bedding and curtains for the nursery. When we were shopping for fabric I tried to stay away from pastels and your typical "baby" prints. So when we found the antique white, pink and green and black stripe fabric, it quickly became the inspiration for our baby girl's nursery decor. The darker colors in the fabric not only complement the tree mural that I designed, but do you remember that glider that's been floating around in my head for the past several months; well, I knew the fabric would be PERFECT with it!

The fabrics were purchased at the Fabric Showcase in Myrtle Beach, SC and the Fabric Emporium in Murrells Inlet, SC..

MAKING OUR BABY GIRL'S BEDDING

With the fabric bought my mom started sewing. She made the crib's dust ruffle in two layers, so that when we drop the crib down, we can remove the polka dot layer of the crib skirt and still have the stripe layer. The curtains are also layered to match the dust ruffle.


OUR BABY GIRL'S NURSERY FURNITURE

The KViBY dresser was supposed to sit on 6-8 inch feet, but we left them off because it made the piece too tall to work as a changing table. I also replaced the clear acrylic drawer pulls with wooden ones after painting them to blend with the rest of the room. The lamp and shade also came from IKEA.

The crib came from my husband's family. It was our niece's crib that she was in just a couple of years ago. When she outgrew it it made it's way to his parent's attic and then to our house for baby's room.



One of my favorite additions to the room is the custom-made dollhouse bookshelf. I got the idea from some similar bookshelves that I saw on Pottery Barn Kids and Land of Nod. I fell in love with the idea but they were very expensive and too big for our space. I showed them to my dad, and he and I came up with this smaller version! It's the perfect height to display Barbie dolls and fits on the small wall in our nursery. My dad built it for under $100 and we painted it with paint that was left over from the mural. It's perfect for books and small toys now and I know our daughter will have lots of fun playing Barbies with it when she is older.





WALL PAINT COLOR

Once we found the fabric, we matched paint colors to it and got started putting it all together. The paint is all by Sherman Williams, Duration Home Interior in a satin finish and coordinated beautifully with our baby girl's pink and green nursery decor.

The main color that we used on the wall is Rice Paddy (SW 6414).

The colors that I used to paint the tree mural are as follows:


Mural colors: Black: Tricorn Black (SW 6258)

Dark Pink: Cerise (SW 6580)

Light Pink: Tuberose (SW 6578)

Dark Green: Rye Grass (SW 6423)

THE TREE MURAL

I'm a graphic designer by trade and a very hands-on, creative person so I've spent a lot of time thinking and dreaming of the nursery decorating ideas that eventually came together as our baby girl's pink and green nursery. Even before we knew what we were having I started sketching things out in my head. And the only thing I knew for sure is that I wanted to add my own personality and touch by painting a mural of some kind. So, when we found out we were having a girl, I started thinking about it more seriously and ended up deciding on this swirly tree. The mural is my own creation and was hand painted by me. When the baby gets old enough, we are going to use the trunk of the tree as a growth chart.

ARTWORK

The little lamb prints are by Connie Tögel, www.charisma-art.com. I found them a couple years ago at a knitting conference, bought them with intentions of hanging them in another room (at that point we weren't ready for kids). I never got around to hanging them so I guess it was meant for them to play a part in our baby girl's pink and green nursery decor. They are 5x7 prints matted and framed in 11x14 frames.

Decorating our baby girl's green and pink nursery has been a real family effort and I have enjoyed every minute of it. My mom did all the sewing, my dad built the bookshelf, I painted the tree wall mural and my wonderful husband put the furniture together, hung the ceiling fan, curtains (and anything else I couldn't) and listened to my (sometimes crazy) baby nursery ideas every step of the way. Our baby girl is already loved very much. We can't wait to meet her and bring her home to her one of a kind nursery.


From the webmaster:

Thanks so much for sharing your baby girl pink and green nursery pictures. The fabrics and paint colors that you chose for the space are amazing! Everyone should be so lucky to be blessed with such talented family members!