Cute Baby Nursery Decorating Ideas for a Baby Boy's or Girl's Room
We have some very easy baby nursery decorating ideas to share with you thanks to the creative moms and dads that share their DIY projects, tutorials and pictures with us. There are tips for any decorative taste and situation whether your space requires a lot to fill or is so small that it will scarcely accommodate the crib. If you have questions or need a resource, feel free to ask as our visitors may have just the answers that you need to proceed.
There is advice for how to save money by using DIY painting and nursery projects as well as crafts ideas that will give the space your own unique signature that is one-of-a-kind.
There are nursery ideas and pictures of real nurseries decorated by real moms who may have never heard of a nursery mural much less painted one. See examples of beautifully decorated nurseries whose design was based on sentimental family heirlooms, sports memorabilia or mom and dad's professional accomplishments.
We have nursery decorating ideas in themes as well as in the latest colors and styles.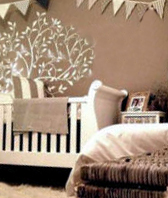 The designs for boys include much, much more than "snips, snails and puppy dog tails" although there are many examples that feature these classic motifs on the walls, in the artwork or in the pattern of fabrics selected for sewing projects.
Decorations might include a collection of sports memorabilia from Dad's glory days or homemade items that Mom made to fill the hours during her pregnancy.
Dads can also make a contribution to their daughters' rooms via their woodworking and painting skills.
Go here to see a list of easy decorating ideas to add to your project list.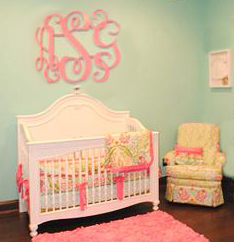 Beautiful wooden monograms like this are one reason that so many men expecting a baby have jigsaws on their Christmas list.
Designing unique, one-of-a-kind artwork for walls of the nursery is made easy using free fonts easily found online.
Nursery Decorating Ideas for the Walls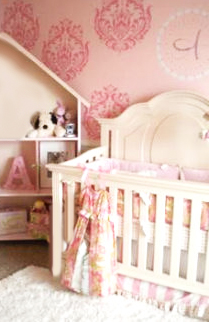 Stenciling is an excellent way to add interest to the walls of the baby's room.
For those looking for cheap and easy nursery decorating ideas; stencils are the answer to a prayer.
Unique Baby Gear Ideas
has free stencil patterns that can be used to paint letters to spell your child's name or designs associated with themed nurseries in any color you want.
Organizational Items Can Be Decorative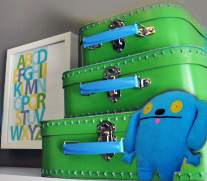 The concept of the modern nursery often translates into the need for creative organization.
The good news is that the baskets and bins that make excellent organizational tools can be very colorful and decorative.
NURSERY PAINT IDEAS
And speaking of paint, the colors that you see in these baby roooms will have YOU bouncing off the walls. Our crafty moms and dads have developed some very sophisticated wall painting techniques with bold, beautiful colors that are every bit as tasteful as they are eye-catching.
You may be surprised to see nurseries for girls that feature baby blue walls as well as a few nursery decorating ideas for boys with touches of pink! Modern moms and dads are more into the aesthetics of nursery designs that are exciting and unique rather than old fashioned, traditional uses of color or themes. I can't say enough good things about their creativity and willingness to get their hands dirty and to learn how to build, paint and craft whatever items they feel are lacking in their baby's room that stores either do not have for sale or do not have the exact piece that they have envisioned for the project.
With all of that in mind, this is where I will leave you to browse through my baby website and pick out some of the nursery ideas, woodworking and painting projects to get to work on. I hope that you will enjoy them and show your appreciation to the parents that share their experiences with you by leaving them a short comment here on
Unique Baby Gear Ideas
or by visiting their blog to see more pictures or to ask questions if there is something in their instructions or tutorial that you may not understand.