Choose a Cute and Comfortable Nursery Rocking Chair with Back Support for the Baby's Room
Is your decorating budget strained? Give that old nursery rocking chair a new lease on life and still have the cool themed room for your baby that you've always dreamed of! Is the nursery glider chair that you used for your last baby (or the one your mom used to rock you when you were a baby) really showing its age?






Think twice before you toss it! There's a chance you can make it look really great again! Yes, there may be hope for even a shabby rocker with the addition of some glider chair replacement cushions. If you can find a children's pattern that you like in seat cushions that are on clearance sale so much the better!


Glider Rocker Cushions

Best Rated Baby Rocking Chairs

How to Make Your Own Seat Cover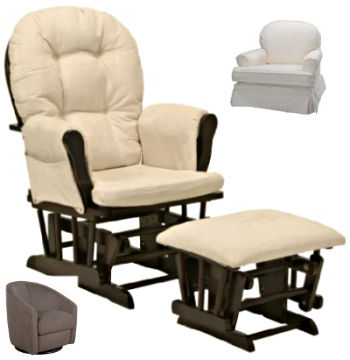 SEE MORE HERE
Few of us are lucky enough to have grandma's rocking chair passed down to us but if you happen to have one of these valuable antiques and it's not in tip-top condition, please don't attempt to refinish or upholster it yourself.
This page is not about refinishing antique baby furniture it's more find a comfortable new or USED nursery rocking chair not a tutorial with instructions on how to refinish antique furniture for the baby's room.

If you have a nursery rocking chair of traditional styling, adding some comfortable seat custions or replacement seat pads is especially easy and talk about instant gratification! There are even free baby sewing patterns and instructions online that will help you save even more money if you happen to be handy with a sewing machine. If you are not crafty, don't despair as there are people you can hire to sew your glider chair cushions for your nursery. Replacement cushions sewn with clearance and overstock fabrics won't cost that much and you will be amazed at how great your baby rocker will look! Think of all the fabulous toile fabrics in children's designs that you can use if you are decorating with toile.
For those of us who don't sew, you can always buy rocking chair cushions! Nursery friendly fabrics aren't always labelled as such. Check out the selection of ready made replacement pads that are in the discount stores ready for you to take home and use in your baby's bedroom!
For dark wood finishes, you may want to lighten up the rocker with brighter fabrics that compliment your baby's cribset and nursery curtains. Even an antique nursery rocking chair can be given a completely new look with some new replacement pads that are of a simple tie-on design. So something unusual so long as the print doesn't clash with your other nursery accessories. There's no rule that says you can't use modern prints on an old rocker. Replacement pads will make that cold hard seat a tat more accommodating and comfortable without compromising the patina or value of your wooden nursery rocking chair.
If you have a painted white rocking chair or white nursery glider, a good cleaning may be in order. Take care that your wood does not get wet and damage the joints or dissolve the glue. Once your nursery rocking chair is clean, buff it up with custom sewn replacement cushions! If you are unable to find a coordinating print fabric that suits you, a solid color may be the best route to take for this particular nursery decorating project.
Most nursery rocking chair replacement cushions can be changed in the blink of an eye! However, glider chair cushions may be a bit more tricky to replace. Many of these rockers have cushions that are attached to the frame and their replacement will require some upholstery skills. A quick examination of the glider and an estimate from an upholstery shop will let you know if it would be best to just replace the whole nursery glider. If you have a style of nursery glider rocker that requires a professional upholsterer change out the cushions, shop for a replacement chair with a simpler design this time around. Buy a replacement rocker that will allow you to change your cushions all by yourself if the mood strikes you in the future!
Please make plans to visit Unique Baby Gear Ideas again soon to find more comfortable rocking chairs and .