Best Replacement Glider Rocker Cushions
Regardless of how pretty the rocking chair, the glider rocker cushions may be what make the hours spent rocking a newborn in the baby's nursery a pleasurable experience or a backache in the making. No matter how old, how large or how small; practically any chair can be made more comfortable and certainly more stylish and attractive with the addition of a set of glider rocker replacement cushions or fitted rocker glider slipcovers.



Visitors Shopping for Replacement Cushions Also Enjoyed these Pages:

Glider Rockers for the Baby's Nursery

Best Baby Nursery Rocking Chairs According to Mom

How to Make Your Own Baby Car Seat Cover




Many families have antique rocking chairs that that have been used to rock several generations of babies. Their use may not be required, but the feeling of continuity and tradition that an heirloom nursery rocking chair adds to any bedroom's decor is amazing. However, the sad facts are that antique wooden rocking chairs are not always as soft and cozy as modern baby nursery furniture. A satisfactory answer to this dilemma may be as simple as installing some new glider rocker cushions.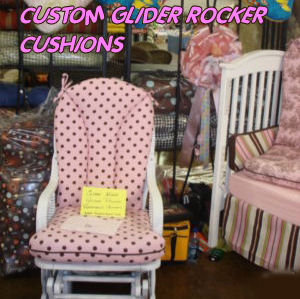 Most replacement rocker cushions come in fabrics in prints and colors that blend nicely with popular crib bedding sets as manufacturers recognize that many of these sets will be used in a baby's nursery. If you can't find a set of glider rocker cushions in fabrics that work for you or if you have difficulties in finding a set that don't fit your rocker, the answer is to have a set of custom cushions made according to your specifications or to make them yourself.
If you are handy with a sewing machine, you can simply buy a pattern and make your baby's nursery glider rocker cushions yourself. Most baby bedding sets offer fabric by the yard in coordinating patterns for an inexpensive price. It would be so easy to pick up a few yards of fabric, some foam rubber and whip up some slipcovers and a few matching throw pillows. For those of us who don't know our way around sewing patterns, the answer is to hire an upholstery shop to our glider rocker cushions. The benefits of having a set of custom chair cushions made are not only that you will get the best fit possible. You also get to pick out your own fabrics that will be a perfect color match. You can make arrangements to have the glider rocker cushions personalized with your baby's name, monogram and have a pretty accent pillow made to support your back in any shape that you might want.
A set of custom made or replacement glider rocker cushions will cost less than $100. The effect that they have on the look of your baby's nursery design and your comfort is priceless.
Return to find more ideas for making a baby nursery more comfortable by choosing the most comfortable nursery rocking chair replacement pads and cushions.